What Has Taiwan Gotten for Cozying up to China? Not Much.
How much of Taiwan's hard-won autonomy are its citizens willing to give up for 0.4 percentage points of growth?
by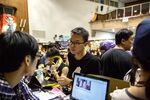 So, you live in a proud, thriving and affluent democracy of 23 million people that many less developed places view as a role model. How much of your hard-won autonomy would you be willing to give up for 0.4 percentage points of growth?
That's the question Taiwan now faces, after protests stalled a trade agreement to open up the island's economy to competition in services from mainland China. Taipei's "Occupy Parliament" movement forced the government of President Ma Ying-jeou, which had tried to ram through the bill without public scrutiny, to pause for nine months. Now, editorialists and other supporters of the bill have begun howling about the economic fallout. Ma claims that Taiwan will lose global credibility if it reneges on the pact. Bank of America predicts Taiwan's economy will grow 2.5 percent without the pact, compared to 2.9 percent if it's approved.
The idea that Taiwan is doomed without the services deal is hyperbolic nonsense. Sure, China is now Taiwan's main trading partner. And the island's technology-heavy economy is facing any number of headwinds, from tepid global demand to the steady demise of the personal-computer market.

But what exactly has Ma gotten in return for cozying up to China these last six years? Considerably less than others. Since Ma took office in 2008, Taiwan has seen a roughly 55 percent rise (as of the end of 2013) in the amount of goods flowing to the mainland. That lags the roughly 75 percent surge South Korea has enjoyed. Gains elsewhere are even more impressive: 98 percent for the European Union; 101 percent for Russia; 119 percent for the U.S.; and an astounding 282 percent for Australia. Only Japan fared worse than Taiwan with a 21 percent increase in goods to China.
Ma argues that Taiwan needs this services-industry deal to raise its share. But why didn't he instead use the last six years to diversify his economy, unleash fresh waves of innovation and negotiate free-trade deals elsewhere? There's a view in diplomatic circles that Beijingmust implicitly okay any trade agreements that other countries wish to sign with Taipei. Ma should've spent his time in office lobbying Chinese officials for greater understanding and autonomy to act in Taiwan's best interest. Also, Ma should have made the case that to win over the Taiwanese, China should move first and liberalize its markets. Removing barriers to Taiwanese companies years ago might have eased fears that closer ties with China would dilute their competitive strengths. Ma has himself to blame for pursuing a China-only policy that many voters are now turning against.
The students who commandeered the legislature for weeks in their answer to "Occupy Wall Street" are right to worry about giving China undue influence over their government. In Taiwan, no economic deal with China is just an economic deal. Taiwanese companies aren't only competing with Chinese firms, but with the Communist Party and its roster of state-supported national champions. U.S. companies face the same challenge, of course. So do those from Japan andKorea. The difference is that China views Taiwan as its property with a stated goal of absorbing it into the motherland, and more than 1,000 missiles are at the ready to amplify the point. When it comes to China and Taiwan, there's no such thing as "free trade." They will never approach the negotiating table as equals.
Gross domestic product is the driving force behind any government. Is 0.4 percent of GDP really worth it for democratic Taiwan to subsume itself in the Communist Party-juggernaut? The student protesters who are demanding a time out to make sure their $355 billion economy doesn't become a rounding error in China's $8.2 trillion one have a valid point. For all the cross-strait spin about warming ties, Taiwan actually hasn't done better than anyone else in its trade with China. All that Ma has demonstrated, after six years of flirting with leaders in Beijing, is the economic limits of appeasement.
(William Pesek is a Bloomberg View columnist. Follow him on Twitter at @williampesek.)


This column does not necessarily reflect the opinion of Bloomberg View's editorial board or Bloomberg LP, its owners and investors.
To contact the author on this story:
Willie Pesek at wpesek@bloomberg.net
To contact the editor on this story:
Nisid Hajari at nhajari@bloomberg.net
Before it's here, it's on the Bloomberg Terminal.
LEARN MORE