What Doesn't Kill JPMorgan Makes Dimon Stronger
Yesterday, JPMorgan disclosed that Dimon's 2013 pay was $20 million, a 74 percent increase.
by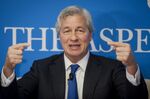 There are many requisite qualifications for being a member of JPMorgan Chase & Co.'s board. A sense of irony might not be one of them.
Last year, the world learned that Jamie Dimon's pay for 2012 got cut in half to $11.5 million, in large part because of the London Whale trading scandal at JPMorgan's chief investment office. The company's board explained at the time that it "took into consideration both the continued strong performance of the firm and the CIO losses, including Mr. Dimon's responsibility as the firm's chief executive officer."

But for every setback there is an opportunity. Yesterday, JPMorgan disclosed that Dimon's 2013 pay was $20 million, a 74 percent increase. Among the top reasons listed in the pay-for-performance section of JPMorgan's proxy statement: "Mr. Dimon played a key role in resolving several outstanding civil and regulatory claims with government agencies and private parties; the resolution of these claims strengthened our businesses by enabling them to focus their energies principally on serving clients."
Those deals included a $920 million settlement with the Securities and Exchange Commission and other regulators over the Whale episode, as well as a $13 billion package with the Justice Department and a gaggle of other government agencies for alleged offenses too multitudinous to list here. A lot of that stuff, including the Whale scandal, happened on Dimon's watch.
Let's be clear: Dimon wasn't some simple bystander to the blowups and disasters that befell JPMorgan. It was Dimon, for example, who had pushed for the transformation of the chief investment office from a conservatively run risk manager into a profit center speculating on credit derivatives. The Whale debacle might never have happened had it not been for him.

The London Whale

But this is a man who knows how to fail well. Where others might have panicked or buckled under the pressure, Dimon was able to make the feds go away in exchange for some pennies-on-the-dollar settlements. Give credit where it's due: That was a stroke of genius. A freak mutation of "Munchausen at work" syndrome, perhaps -- where employees create messes and then step in to save the day -- but genius nonetheless. No wonder JPMorgan wants to keep him as chairman.
This column does not necessarily reflect the opinion of Bloomberg View's editorial board or Bloomberg LP, its owners and investors.