view
Our Bodies, Our Dry Cleaning Bill
If women want to pay the same for their dry cleaning as men, they'll have to wear a quasi-uniform, the way men do.  
by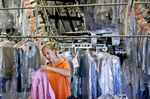 Ladies, have you ever complained that the dry cleaner charges more for your shirts than for your husband's shirts -- even though your shirts are smaller?
The president feels your pain:
"We'll talk about dry cleaners next, right," Obama said, prompting laughter from the audience, which was full of women, "because I know that -- I don't know why it costs more for Michelle's blouse than my shirt." Asked about the disparities between what men and women pay for dry cleaning during the daily briefing a little more than an hour later, White House press secretary Jay Carney replied: "It's terrible."
So what's the scoop? Are dry cleaners sexist jerks? Are they ripping us off because ladies are too stupid, or too shy, to do math?
Nope. There's a very simple explanation, which the president or his speechwriter could easily have discovered, if they had, y'know, asked the dry cleaners:
As an industry, dry cleaners do not charge more for a woman's shirt than a man's shirt, they charge more for a hand ironed shirt than they do a machine pressed shirt. If you check your own dry cleaning bill, you'll find that YOU pay more for the laundering and finishing of your hand ironed tuxedo shirt, than you do for the automated processing of your everyday traditional dress shirt! The price is in the math as calculated by the labor required not the gender of the client!

Simple math. Hand ironing takes more time and requires more skill, and therefore costs the cleaner more to produce. Because it costs more to produce, he charges more for the work.
OK, but why isn't there a machine for women's shirts? Isn't that sexism?
Again, no. You can see the sort of machines they are talking about in operation here. What do you notice? Standardization. All the men's shirts are laundered, not dry cleaned. They are all approximately the same shape and have no detail other than pockets. They all have collars and cuffs. Thus, they can be processed on an assembly line.
When I look into my closet, how many shirts do I see fitting that description? Aside from a couple of actual men's shirts, none. My shirts are tapered, or they're dry clean only, or they don't have a collar and cuffs, or they don't have any sleeves at all. The necklines vary. There are apt to be belts or waist ties or adorable ruffles scattered around the garment.
Men wear boring, standard clothes. They also have boring, standard bodies that don't, say, have wildly varying ratios of chest to waist. Standardization and automation are cheap compared with simply paying someone else to do the same work you'd have to do, if you weren't paying someone else to do it.
If women want to pay the same for their dry cleaning as men, they'll have to wear a quasi-uniform, the way men do. Me, I'll take the ruffles.
(Megan McArdle writes about economics, business and public policy for Bloomberg View. Follow her on Twitter at @asymmetricinfo.)
To contact the author on this story:
Megan McArdle at mmcardle3@bloomberg.net
To contact the editor on this story:
James Gibney at jgibney5@bloomberg.net
Before it's here, it's on the Bloomberg Terminal.
LEARN MORE