On Buying Greek Debt, Desperately
Investors who've been in line for days are flooding through barely open doors, battling to get their hands on Greece's first new bonds since it defaulted/restructured, depending on your view.
by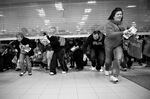 It's the market equivalent of the Friday after Thanksgiving. Investors who have been in line for days are flooding through barely open doors, elbowing aside the guards and battling one another to get their hands on Greece's first new bonds since it restructured.
The transaction smacks of desperation. The 3 billion euros ($4.1 billion) of bonds will pay investors a yield of 4.95 percent. The nation's initial target was to borrow 2.5 billion euros, yielding up to 5.25 percent. Yet even at the revised terms, today's sale was hugely oversubscribed. More than 550 investors were willing to lend more than 20 billion euros to Greece, a country that still has a debt-to-gross-domestic-product ratio of more than 170 percent.
Recall, if you will, that it's only two years since Greece unleashed the biggest-ever sovereign debt restructuringonto its lenders. The 206-billion euro debt exchange canceled more than 100 billion euros of Greece's obligations, by erasing more than half of the principal it owed to investors. Note also that Greece's credit rating at Moody's is Caa3, meaning the nation would need nine levels of upgrade just to qualify as the lowest class of investment-grade risk.
Picture the scene if Greece were a company, and you were pitching the investment thesis to your credit committee at Hokey-Cokey Fund Management:
You: "So guys, we want to lend 20 billion euros to WeSawYouComing Corp. Moody's says the company is in bad shape and subject to very high credit risk: Its existing debts outstrip its assets by 70 percent. It was supposed to sell50 billion euros of assets by 2016 to help deal with that, but now that will only be 11 billion euros. Oh, and someone just let off a bomb outside the company headquarters. But -- we'll get a 5 percent yield!"

The Board: "You are kidding, right?"
The most compelling element of your pitch might be a chart showing the price history of the Greek 10-year bond. You would have paid less than 50 cents on the euro for the security a year ago; today, you can sell it for more than 80 cents. You have to question, though, how much juice is left in the Greek bond trade; at current yield levels of 5.9 percent that 10-year security offers a 4.3 percentage-point premium to German debt, down from 7.2 points just six months ago.

The front page of today's Financial Times newspaper heraldstoday's sale as Greece coming "out of bond exile,'' and describes it as "a sign of growing confidence in the region's weakest economies.'' I beg to differ. First, the sale is evidence that yield-starved bondholders staring at record-low returns on even Italian and Spanish debt holdings are growing more desperate with every lurch lower in bond rates. Second, it shows that investor faith in European Central Bank President Mario Draghi's pledge to do "whatever it takes'' to secure the future of the euro remains unshaken, even though that July 2012 promise has never been tested.
This column does not necessarily reflect the opinion of Bloomberg View's editorial board or Bloomberg LP, its owners and investors.