How to Keep Israelis and Palestinians Talking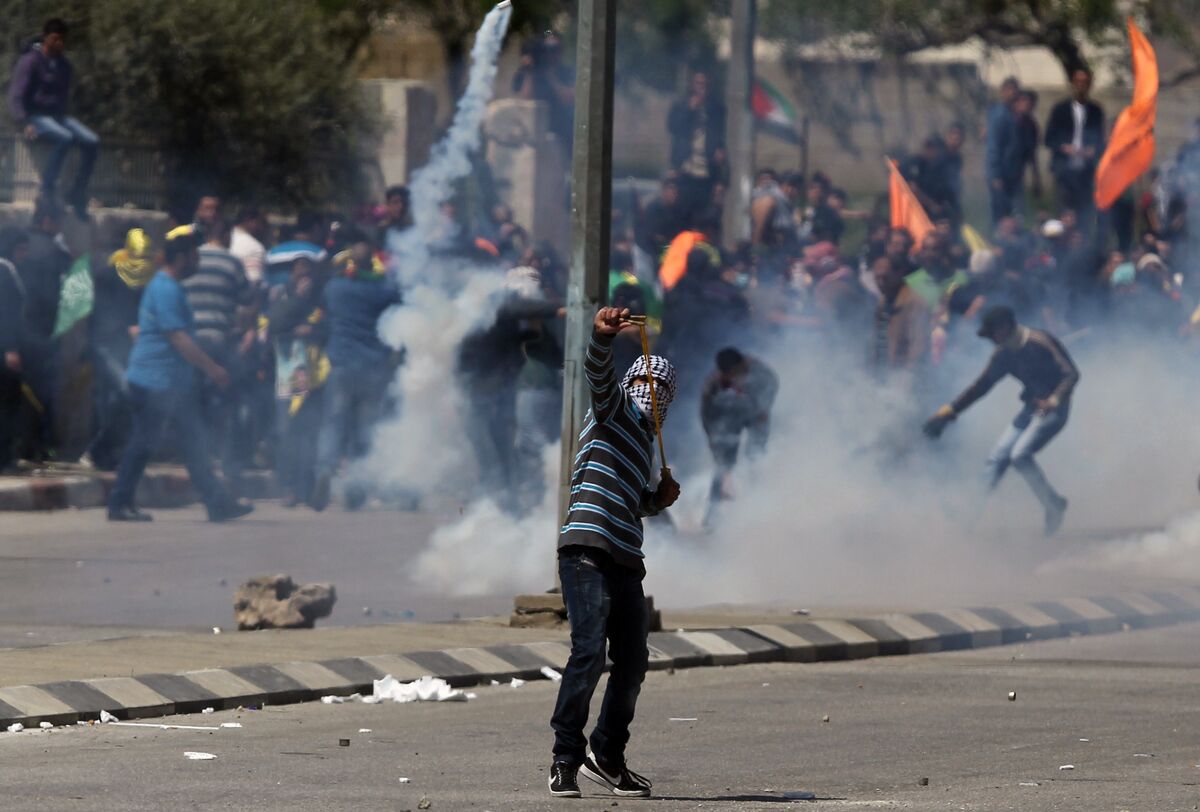 Peace negotiations may be frustrating, but they're better than this. Photographer: Abbas Momani/AFP/Getty Images
The almost-but-not-quite-failed Israeli-Palestinian peace talks have entered the recriminations stage. It's unlikely, at this point, that they can be saved by hopeful appeals to both parties to continue to negotiate. More productive might be some dire warnings about what might happen if they don't.
On Israel's side, despite U.S. Secretary of State John Kerry's alarms, a breakdown of talks would not provoke major boycotts of Israel. More European companies might cut business ties to Israeli settlements in the West Bank, but the settlements are just a small part of Israel's economy.
Nor would third countries be likely to stop cooperating with Israel on "key security interests," as President Barack Obama has cautioned. On strategic matters, Israel relies only on the U.S. And though Israel's spy organization works with foreign counterparts to combat terrorism, these agencies would be reluctant to end that collaboration given the Mossad's superior human intelligence assets, proficient Arabic speakers and willingness to undertake risky missions.
Kerry has also warned that the Palestinians might start a third intifada. Since the last two, however, the Israelis have left the Gaza Strip and walled off Israel from Palestinian areas in the West Bank. Plus, any Palestinians who wanted to attack Israeli soldiers and settlers within the West Bank can see that the last intifada gained them nothing.
There is, however, another way in which the Palestinians could truly hurt Israel: If the United Nations-recognized state of Palestine were to join or seek the jurisdiction of the International Criminal Court, Israeli officials responsible for expanding settlements could be prosecuted for war crimes. The ICC's statute prohibits the "transfer, directly or indirectly," by an occupying power of its civilians into the territory it occupies.
Last week, Palestinian President Mahmoud Abbas left the ICC out when he signed papers acceding to 15 international conventions -- in response to Israel's failure to keep a commitment to release 26 Palestinian prisoners and its announcement of tenders for 700 new apartments for Israelis in the West Bank. If negotiations collapse, Abbas could appeal to the ICC, too, though it could cost the Palestinians $440 million in annual U.S. assistance and worse retribution from the Israelis.
As for how a delay could hurt the Palestinian side, there is the simple truth that the longer there is no peace agreement, the harder it will be to reach one. Israel's constant expansion of settlements makes it increasingly difficult for future Israeli governments to evacuate enough of them to leave behind a territory large and intact enough to accommodate a viable Palestinian state.
Of course, this is intentional on the part of the factions within Israel that drive settlement construction. They adamantly oppose a Palestinian state. Yet if the settlements eat away the West Bank, Israel will be left with options less favorable than a Palestinian state: Annexing the West Bank would create a binational state in which Palestinians would soon become the majority. Permanently occupying the territory of another people, meanwhile, would make Israel's chief ally, the U.S., increasingly uncomfortable -- and violate Israelis' sense of decency as well.


--Editors: Lisa Beyer, Mary Duenwald


To contact the editor on this story:
David Shipley at davidshipley@bloomberg.net