Carl Icahn Wins Some and Loses Some
It's hard to imagine a more comprehensive surrender than Carl Icahn's announcement about walking away from eBay.
by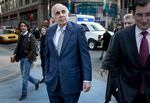 It's hard to imagine a more comprehensive surrender than Carl Icahn's announcement about walking away from eBay. Icahn, who started out trying to get eBay to get rid of PayPal and much of its board, ended up with this:
Icahn has signed a confidentiality agreement covering any non-public information that directors and certain officers of the company may share with him. In addition, the company agreed not to adopt a policy precluding such persons from speaking to Mr. Icahn, and that it would advise them that they may speak to Mr. Icahn if they are willing to do so.

EBay agreed to tell its directors that they can talk to Icahn if they want. Do they want? Would you want? He wants:
I am optimistic that this arrangement with eBay will enhance our ability to discuss large issues affecting the company with greater intelligence and will help to enhance shareholder value.

I feel like they're going to be busy that night? 1 We'll see.
Icahn also got eBay to add a director, but not one of the two he nominated. And he didn't convince eBay to get rid of PayPal, in whole or in part, or to get rid of John Donahoe, the chief executive officer whom Icahn accused of "inexcusable incompetence," or of directors Marc Andreessen and Scott Cook, whom he accused of irreconcilable conflicts of interest and self-dealing. But, on the plus side, now Andreessen and Cook are allowed to talk to him, and Donahoe sort of has to. So that should be fun.
Earlier in his eBay tantrum, I expressed skepticism about Icahn's claim that he had launched his fight after "diligently researching" the company, pointing out that the research seemed to have occurred after he bought his shares, and that it consisted mostly of, in eBay's words, "cherry-picked old news clips and anecdotes out of context." Then Icahn quickly retreated from asking for a complete spinoff of PayPal to asking only for a 20 percent initial public offering. That further supported the theory that this was less of a thoroughly prepared activist campaign driven by a compelling value thesis, and more of a "well let's make some noise and see what happens" kind of thing.
What happened is that Icahn has given up with basically nothing. But that's fine! The stock is down so far this morning, though still above where it was trading when Icahn bought it, so he's got some paper profits. 2 And he'll move cheerfully on to the next fight, while still keeping the option to pester Donahoe about PayPal whenever he's in New York.
How much activist investing should there be? Plausible answers include "more than there is now" and "less than there is now," and I'm not sure we need to get into that debate. But there are significant barriers to activism: It's hard to accumulate big stakes, it's easy for boards to block you with poison pills, proxy fights are expensive, and losing one is an embarrassment.
You could imagine that this situation would lead to an equilibrium with too little activism, in which value-driven investors often identify companies that could be improved and boards that are too entrenched to fix them, but then don't push for change because the costs and headaches are too big. 3 Most equity investors operate on a probabilistic, portfolio approach -- you'll have some winners and some losers, and you want to maximize the probability that you make more on the winners than you lose on the losers. That's good for market efficiency, but it's harder for activists: Realistically, you're only going to launch an activist campaign if you've done deep extensive research and are highly confident that the benefits will outweigh the risks.
Unless you're Carl Icahn! He's just having a laugh -- though he gets enough activist situations right that people keep listening to him. 4 If you think he's embarrassed about giving up his eBay campaign with only minimal face-saving concessions, you're nuts. Win or lose, waging a proxy fight is his favorite activity. He'll be doing it again soon, probably at another company that more careful activist investors don't want to take on. And next time, there's a good chance he'll be right.
Chief executive officer John Donahoe doesn't have that excuse. Icahn:

I continue to believe that eBay would benefit from the separation of PayPal at some point in the near future and intend to continue to press my case through confidential discussions with the company. While John has made no commitments regarding such a separation, he and I have agreed to meet regularly when he is in New York to discuss strategic alternatives.


Icahn's proxy statement has a summary of his purchases, which were mostly pursuant to put/call combos bought in mid-to-late January, when the stock closed between $52.16 and $54.94, though his purchases were mostly on sub-$54 days, and entirely on sub-$54.50 days. It's been in the high $54s this morning.

Meanwhile I don't know how easy it'll be for Icahn to monetize those paper profits, since he's signed a confidentiality agreement that you'd expect to limit his ability to trade as long as he's getting inside information. EBay seems to think that he'll be a long-term investor.

The notion of the "request for activist" supports this idea: Old-fashioned buy-and-hold investors see activist opportunities but don't act on them for institutional/embarrassment/whatever reasons.

To pick a few that have been in the news recently, he got a little more cash out of Dell, and he quite reasonably awarded himself the win in Lions Gate Entertainment. Apple is more of a draw.
(Matt Levine writes about Wall Street and the financial world for Bloomberg View.)
To contact the author on this story:
Matthew S Levine at mlevine51@bloomberg.net
To contact the editor on this story:
Zara Kessler at zkessler@bloomberg.net
Before it's here, it's on the Bloomberg Terminal.
LEARN MORE