view
Will Republicans Fumble the Senate Races Again?
by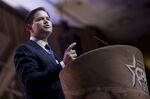 Are Republicans, in this Senate election cycle, going to avoid the self-inflicted wounds of 2010 and 2012?
John Sides suggests today that they might. He backs it up with survey data showing that in several states likely Republican candidates are perceived as mainstream conservatives and not as, well, wackos.
It's a good point. Yet it assumes that these solid candidates will be the nominees. And in several cases we don't know if that will be the case. There are at least three reasons to be cautious:
We have very little survey data from this cycle, making it possible that some apparently safe nominees could be in trouble that the polls haven't picked up on.
Primary elections are inherently volatile. Wide swings are always possible, even fairly late in the game.
And we're not talking about partisan tides or anything else that would hold party-wide. Republicans might do an excellent job of protecting strong candidates in almost every state, but two or three races might go the other way without affecting anything else. Indeed, it makes sense for Tea Party candidates and others who see themselves as insurgents to be very selective with their targets, and perhaps even to strike quickly and late.
I'm not predicting another round of candidates like Todd Akin and Christine O'Donnell. The bulk of Republican nominees this time will be the (apparently) strong candidates who seem to have solid leads right now. But it's hard to be certain this far in advance. And the availability of perfectly good candidates doesn't seem to be the critical variable in determining whether Republicans wind up with a strong contender.

(Jonathan Bernstein covers U.S. politics for Bloomberg View.He is co-editor of "The Making of the Presidential Candidates 2012."Follow him onTwitter at @JBPlainblog.)
To contact the author on this story:
Jonathan Bernstein at jbernstein62@bloomberg.net
To contact the editor on this story:
Max Berley at mberley@bloomberg.net
Before it's here, it's on the Bloomberg Terminal.
LEARN MORE