Watch Party Agendas, Not Candidates
Nominees win by espousing their party's stance on issues, not by setting them.
by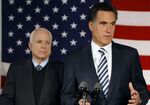 We often get it backward when thinking about presidential nominations. Our usual approach -- which treats candidates as the key players, looks at things from their point of view, and asks questions about them -- is wrong. The real process involves the party defining itself. Candidate choice is mostly an effect of that process, not the reason for it.