There's No Bailout for Puerto Rico
It's been clear for a while that Puerto Rico is going to have to default on its debt.
by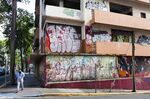 It's been clear for a while that Puerto Rico is going to have to default on its debt:

Puerto Rico has $70 billion in debt outstanding, all of it needing to be repaid with interest -- and the simple fact is that there's no way it's going to be able to do that, if its economy continues to shrink and its most talented nationals continue to decamp for the mainland, where their prospects are much brighter. Labor mobility from Puerto Rico to the rest of the US, and particularly to Florida, has never been higher, while most of the migration in the other direction comes in the form of retirees, who are not exactly going to kick-start the economy. In fact, in terms of the labor force participation rate, they're just going to make matters worse, on an island where only 1.2 million of the 3.4 million inhabitants are employed.

In many ways, Puerto Rico is similar to those other tourist destinations, Portugal and Greece -- it's highly indebted; it's not particularly well educated (only half of Puerto Ricans over 25 have graduated from high school, and only a quarter of high-school graduates go on to get a bachelor's degree); and it is hobbled by being unable to devalue its currency.

All of this is a clear recipe for default: if Puerto Rico can't repay that $70 billion in debt, then it won't. The only alternative is a bailout -- but as Martin Sullivan explains, the US government has already extended a back-door tax-code bailout worth some $2 billion per year, and even that is both insufficient and constitutionally dubious. A more explicit bailout is not going to happen -- not when Detroit is being left to deal with the ravages of bankruptcy on its own.
With Puerto Rico hiring restructuring experts, it looks like the moment is approaching. But the island's restructuring presents an interesting problem: There's no mechanism for it to go bankrupt.
A municipality could declare bankruptcy under the federal code. But Puerto Rico is a territory of the U.S. -- sovereign, but not quite. To make matters worse, Felix Salmon notes, a lot of its debt is theoretically secured by specific revenue streams -- so much of it that it is going to have to include revenue bonds, as well as theoretically less secure general obligation bonds. This is going to make the restructuring extremely complicated -- and, worse, from the perspective of bondholders, extremely unpredictable.
As difficult as it is, it's hard to see that Puerto Rico has any choice. Its economy has been troubled for a while, and its debt burden is essentially unpayable.
This is a problem that could eventually spread beyond Puerto Rico. There are some U.S. states with a lot of debt and big problems in their pension systems -- and, like Puerto Rico, no bankruptcy code under which to do an orderly reorganization. If there's anything good to come from the inevitable default, it will be if it spurs Congress to set up some sort of process for the quasi-sovereign states and territories it oversees.
This column does not necessarily reflect the opinion of Bloomberg View's editorial board or Bloomberg LP, its owners and investors.
(Megan McArdle writes about economics, business and public policy for Bloomberg View. Follow her on Twitter at @asymmetricinfo.)
To contact the author on this story:
Megan McArdle at mmcardle3@bloomberg.net
To contact the editor on this story:
Brooke Sample at bsample1@bloomberg.net
Before it's here, it's on the Bloomberg Terminal.
LEARN MORE