The Fable of 'India First'
As India started the largest democratic exercise in history on Monday, the Bharatiya Janata Party, projected by every opinion poll to seize power, belatedly rolled out its 2014 election manifesto.
by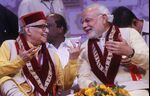 Better late than never, the proverb goes, but it should have a companion saying in the realm of politics: Better late than early.

As India headed to the polls Monday at the start of a five-week process that will make up the largest democratic exercise in history, the Bharatiya Janata Party, the right-of-center party projected by every opinion poll to seize power in these elections, rolled out its 2014 election manifesto.
That's far too late for a party with such vast resources to be communicating to the electorate its vision of governance, economic reforms, center-state relations, education, taxation and foreign policy. But there's a good reason for the delay: Since January, opinion polls have shown the party to be pulling ever further away from its political competition as a campaign founded almost entirely on the charismatic personality and development record of its leader, Narendra Modi, has caught fire.
Modi's appeal to a "social coalition" that has never been seen in Indian politics -- consisting of the BJP's traditional urban, upper-caste, Hindu vote base; large sections of the middle class as well as the aspirational "neo-middle" classes; a substantial number of the 100 million young people who are eligible to vote for the first time; and an equally large constituency of voters who seek a stable government but are disaffected with the ruling Congress Party -- has created an electoral safe house for the BJP that it does not want to unsettle by bringing up divisive issues that were once at the very core of its agenda.
It's not just the timing of the manifesto that points to the BJP's desire to play it safe; its content does as well. Like an elaborate breakfast buffet that offers the traditional options as well as pastries, curries and even Chinese food, the party's manifesto committee has provided a political menu that leaves out nothing: development for all, rooting out corruption and red tape, special emphasis on women and disadvantaged sections of society, reviving growth rates, containing the fiscal deficit while maintaining or even extending current levels of government spending. (The BJP appears to have no quarrel with the previous government's vast social-security programs for employment and food security.)
In the absence of hard figures, it's hard to take exception or trust any of this. That said, it's refreshing to see that the party has promised a special focus on one of India's most substantial and most invisible minorities, the disabled; gives considerable thought to India's energy security; and commits to a more transparent approach to land acquisition and an ambitious program of rapid urbanization. (The party's romantic notion of the Indian village leads it, though, to the terrible neologism "Rurban," or the supply of "urban amenities to our rural areas, while retaining the soul of the village.")
Foreign investors looking to be part of the Indian growth story will want to know what the manifesto envisages for them. This is one of the few areas where the manifesto takes a coherent "for this/not for that" point of view. In order to protect India's millions of small grocery shops and traders, the party will not allow foreign direct investment in the retail sector, which the previous government had approved. So Wal-Mart Stores Inc. and other such large multinational retail companies would have no place in a BJP-ruled India.
Further, to those used to reading BJP manifestos down the years, what the document says isn't half as revealing as what it doesn't. The Telegraph of Kolkata published a comprehensive graphic that shows how the current document tries to clean up all the disturbing majoritarian murmurs and prejudices of manifestos past. Their retention would have shifted the debate away from the party's focus on the present government's record on corruption and its promise of a "Modi sarkar" -- a Modi government.
Even in a text so generic, however, something striking about the party's particular (and often peculiar) vision of India seeps through. The manifestos of all political parties in India are generalized mission statements, but only the BJP's also manages to be a fable.
The document begins with a four-page preface by the chairman of the committee that drafted it, the party veteran Murli Manohar Joshi. Joshi is a sonorous (and often soporific) thinker, whose own website says he is "internationally known for his erudition, scholarship and statesmanship." He tells in fast-forward a story of Indian history, of the great religious and scientific glories of India throughout antiquity. As he sees it, "India was a land of abundance, prosperity, affluence, a land of sharing and caring living in perfect harmony and peace with the nature."
Then, successive waves of disaster struck. India was overrun, and in due course ruined, first by British colonialism (or "the Britishers," as the manifesto charmingly puts it) and then, after independence, by the Congress Party, which blindly imitated the West instead of trying to "reconstruct the political and economic institutions of India as a continuum of civilizational consciousness." (One interprets this as meaning India should have sought a direction rooted in a more indigenous worldview.) If it comes to power, we are told, the BJP will try to provide just such a continuum, by working to "reorient the polity in consonance with those strong points of Indian psyche which will be the engine for our future glory."
Isn't this language much more interesting, and revealing, than the bland statements on development and empowerment? (Many would say, by the way, that Joshi tried once before to reorient the errant Indian polity. A physicist by training, he was accused, while serving a minister in the last BJP government, of orchestrating a campaign to "Indianize" school education and introduce his own pet subjects, such as "Vedic astrology," in higher education.)
The emphases of this preface lead directly to what is most problematic about the manifesto: the BJP's extremely convoluted, if not completely tautological, view of what constitutes citizenship and Indianness in a 21st-century world (and indeed in the depths of history).
The manifesto claims that the BJP stands, above all, for the idea of "India First" and explains, in Joshi's tortuous syntax, the consequences of this idea for state policy and conflict resolution:
India First simply means nurturing and protecting all the elements, which India is made of. It does not exclude anyone or anything -- it only includes everything and everyone, which India is made of. It is complete India; without exclusion, without exception. It also means that whatever is in the interest of India will be in the interest of all the elements that India is made up of, including its citizens.
Really? Any student of the relationship between democracy and nationalism would know that on scores of occasions in the past century, nation-states have, often violently, targeted certain classes of their citizens (whether ethnic or economic) for their dissenting positions, or for somehow not being nationalistic enough.
These conflicts require delicate negotiation and the state's commitment to the equality of all, not to a scale of civic virtue measured by a dedication to the "national interest" that must be continuously proved by its citizens. The state must set clear limits in determining "whatever is in the interest of India," else "India First" is nothing but a cuddly term for totalitarianism.
No matter how hard it tries to modernize, it seems the BJP cannot reorient itself to allow for a technical, and not emotive, definition of citizenship in its beloved Mother India. This incomplete understanding of a "complete India" allows critics of the party to continue treating its promises of good governance with the skepticism invited by its own past record and the role of its Great Leader in both large and small infringements of religious, personal and intellectual freedom.
Whatever the merits of its manifesto, the BJP may come to be judged on its record on Indian personality -- which is implicit in its flawed idea of citizenship as well as of the enormous trust it puts (the manifesto's final words are "Time for Change, Time for Modi") in its unusual prime ministerial candidate.
(Chandrahas Choudhury, a novelist, is based in New Delhi. His novel "Arzee the Dwarf" is published by New York Review Books. Follow him on Twitter at @Hashestweets.)

This column does not necessarily reflect the opinion of Bloomberg View's editorial board or Bloomberg LP, its owners and investors.