The 30-Second Phone Charge Revolution
An Israeli startup's YouTube demonstration of a device that charges a mobile phone in 30 seconds was viewed more than a million times. The technology is, indeed, coming, though not necessarily in the form suggested by the startup.
by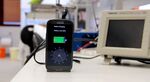 An Israeli startup called StoreDot has wowed the internet with a YouTube clip: a Samsung Galaxy 4 smartphone taking just 30 seconds to charge to 100 percent from 27 percent. The video, viewed more than 1.2 million times in about 24 hours, was something of a circus trick: Rather than the Galaxy's standard battery, a device about three times as thick as the phone was attached to its back. StoreDot even developed a nice Android app to show on the phone's screen how fast that thing was filling up with energy. The demonstration ended with the charge level at 100 percent, refraining from any mention that the new battery would drain more quickly than the standard one.