France's Economic Plan: Hope for Miracles
Prime Minister Manuel Valls probably won't be able to reform France, but he's right about leeway on the deficit and the European Central Bank.
by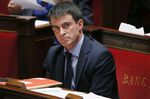 Any time a European government announces tax cuts without saying where all the money will come from, or mentions the word "efficiencies," hold on to your wallet.
So it is with the recent announcement from new French Prime Minister Manuel Valls of lower taxes on labor and corporations. He has proposed adding something in the region of 11 billion euros ($15 billion) to the tax cuts already promised under President Francois Hollande's existing "Responsibility Pact," without upping the 50 billion euros of spending reductions (20 billion euros of which would come from efficiencies) that were outlined for that deal.
Failing a miraculous spurt in growth and tax revenue, Valls is unlikely to be able to pay for this and at the same time reduce the budget deficit to its target of 3 percent in 2015, from last year's 4.3 percent. He said he'll be asking the European Commission to reconsider the balance between deficit control and growth. He also called on the European Central Bank to loosen up on monetary policy.
So plus ca change, plus c'est la meme chose: France once again looks as if it will try to wriggle out of deficit obligations mandated by the European Union.
Valls is right, though, on both deficit targets and monetary policy. For European economies that suffer from 10 percent unemployment, as France does, and essentially stagnant growth, as France does, and are lumbered with an overvalued currency, as France is, structural reform is what matters. Growth will follow effective reform and help to solve the deficit problem -- so long as the global recovery continues and the attempt to chase the tail of deficit reduction doesn't kill any expansion at birth.
Valls is right, too, about the ECB. Regardless of France's particular issues, the ECB should be loosening its monetary policy. It is undershooting its inflation target by a wide margin and producing an overvalued currency that is helping to weigh down economic recovery.
The question for the Commission and France's euro area partners is whether they believe Valls when he says he'll deliver the structural reform and spending cuts that France needs to make the economy competitive. They need to believe, too, that when growth returns France will keep slimming the size of the state, and run a budget surplus. I doubt either will happen, but they should suspend their disbelief for lack of better options.
Valls, like his Italian equivalent Matteo Renzi, is a maverick within his Socialist Party, and he probably wants to do the right thing. His proposal to add to cuts in labor taxes is a good move, as is promising to cut the corporation tax to 28 percent from 33 percent (the EU average is 22.75 percent). Slimming down France's regional bureaucracies as proposed is also a good step. Yet most of this is projected to take effect in two years or more, and there wasn't a word in Valls's speech yesterday to parliament on increasing the flexibility of the French labor market, or its service sector, the heart of any meaningful reform.
Renzi and Valls are the slight but fresh hopes for the euro area's two biggest economic delinquents. Neither has the political backing from within their parties to do everything it would take to fix those economies. And yet both are the best available options in an age of rising voter discontent with mainstream political parties.
This column does not necessarily reflect the opinion of Bloomberg View's editorial board or Bloomberg LP, its owners and investors.