Crack-Smoking Mayor Gets Backing of Steroid-Using Sprinter
Because scandal is the only way to get Americans to care about both Canadian politics and Canadian sports, I present to you the Dream Team of the Great White North: Rob Ford and Ben Johnson.
by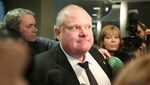 Because scandal is the only way to get Americans to care about both Canadian politics and Canadian sports, I present to you the Dream Team of the Great White North: Rob Ford and Ben Johnson.
The two Canadian personalities whose names will forever be preceded by "disgraced" in press reports have apparently teamed up to try and salvage Ford's bid for re-election as Toronto's mayor in the wake of his post-crack-smoking meltdown. Ford appeared before befuddled reporters on Tuesday to announce the support of Johnson, who was stripped of an Olympic gold medal and title of Fastest Man Alive for steroid use, and actor Sam Tarasco, who plays Sam the Caveman in the mockumentary series "Trailer Park Boys."
To recap just how ridiculous this whole situation is: The leader of Canada's largest city -- who's still in office despite admitting to smoking crack, numerous incidents of public drunkenness, allegations of gang affiliations and all-around belligerence -- has enlisted as supporters one of the most notorious substance abusers in the history of sports and an actor whose best-known character lost a trailer park election after he delivered an unintelligible campaign speech while high on hallucinogenic mushrooms.

To be fair, Councilman Doug Ford (the mayor's brother and campaign manager) insists the pair are not serving in any official capacity for the re-election effort and will simply serve to offer public support. To be even more fair, what is going on here?
It wouldn't take a particularly cynical mind to see this spectacle as a cheap publicity stunt. Mayor Ford has completely lost the respect of his constituents and colleagues, and will surely be cast out of the political spotlight after October's election. Johnson hasn't been shy about trying to recapture fame: He wrote an autobiography in 2010 attempting to give his side of the story and brazenly shilled for an energy drink aptly named "Cheetah." As for Tarasco... who?
Add to that the fact that Rick Smiciklas, the founder of Wild Wings restaurants, was standing in the background during the press conference, and the whole thing starts to smell of a misguided marketing campaign. According to NOW Toronto, Tarasco pointed to "Rick from Wild Wing" as the force behind his and Johnson's involvement in the campaign. The Toronto Star, however, reports that Tarasco was the one who initiated the meeting, hoping to recruit Ford for a "mystery project" organized by his events company, The Substance Group (really).
But what does Ford hope to gain? By most accounts, he's delusional enough to think he stands a shot at retaining his seat in city hall; so one wonders what political good he imagines could possibly come of such a partnership. Then again, he has in Johnson a perfect example of the hubris it takes to attempt to rehabilitate a thoroughly damaged image. Beginning with his book, Johnson has tried to tell anyone who will listen that some "Mystery Man" spiked his drink with drugs during the 1988 Olympics in Seoul. He has no such conspiracy theory for the second time he tested positive, in 1993, which led to his lifetime ban from track. He has also tried to explain that he was sold on the idea of doping by his longtime coach, Charlie Francis, who apparently convinced him that "if the other guys are doing it, it's not cheating" -- which is pretty much the type of logic you'd employ if you were trying to explain away your crack smoking by saying you did it "in one of my drunken stupors."
This whole situation is simply baffling, as Ford keeps finding new, increasingly inexplicable ways to keep his name in headlines. Like most bewildered observers, I just can't look away and stop giving Ford the attention he so desperately seeks. Thankfully, come October, the voters of Toronto will do that for me.
This column does not necessarily reflect the opinion of Bloomberg View's editorial board or Bloomberg LP, its owners and investors.