Obamacare's Family Wrinkle
For small businesses, counting every child added to a family policy may add up to a significant regulatory burden.
by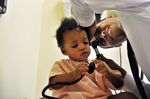 Paul, a business owner, writes in response to my article on children who stay on their parents' insurance. He describes something I've never heard before:

I run a small business. One thing no one seems to point out about allowing those under 26 to stay on their family policies. It used to be that a family was a family so if one had younger kids then keeping an older child on the plan cost nothing -- you had to buy a family plan anyway. However under the new rules that's not how it works for businesses with less than 50 employees. For those businesses the family insurance is charged per child. So for the child to stay til they are 26 costs the parents (or the company) extra.

As a matter of fact -- now every family policy we have costs a different amount -- based on age of both parents (used to be only the employee's age) and then each child has a rate based on their age. While it makes some sense for a younger couple with one child to cost less than a family with three kids, it is a huge change. In addition, if I do a new hire I can't guess as to how much insurance will cost when trying to figure out how much to pay them. Am I really supposed to ask in an interview how old is your wife? your kids?. I have always charged the same to all employees for family coverage (not very much) but given the spread in what families now cost that doesn't make much sense.

I was blindsided by this when we set up our insurance policies this year so we haven't come up with a plan. This year we just absorbed it.
I don't know whether this is happening nationally or is specific to Paul's insurer. But it does add a wrinkle to the question of how much it costs to let kids stay on their parents' insurance until they're 26. I was thinking of a standard corporate policy, where this wouldn't cost anyone much, because insurers price by the family, and 24-year-olds generally don't consume much health care. But for small businesses, the added regulatory burden may be significant.
This column does not necessarily reflect the opinion of Bloomberg View's editorial board or Bloomberg LP, its owners and investors.