Missing Plane Will Haunt Malaysia's Future
The four weeks since a Beijing-bound Boeing 777 vanished have highlighted Malaysia's deepest flaws, and very few of its strengths. Here's how the government can recover.
by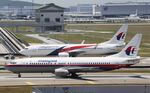 President Barack Obama always knew his Asia tour later this month would be fraught with political landmines. The two nations that lead off his itinerary -- U.S. allies Japan and South Korea -- have been squabbling for more than a year over World War II history. Another, the Philippines, is one of Asia's economic bright spots even as President Benigno Aquino's government is locked into a dangerous maritime territorial spat with China -- a country Obama would rather not antagonize.