Editorial Board
Health Care By the Numbers, Finally
The Obama administration is set to unveil a profound change in U.S. health-care policy that may prove at least as significant a milestone as the more than 7 million enrollments on the health-care exchanges.
by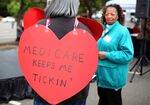 Within days, the Barack Obama administration is set to unveil a profound change in U.S. health-care policy that has generated little news coverage and even less opposition. Yet the move may prove at least as significant a milestone as the more than 7 million enrollments on the health-care exchanges.
What is this monumental event? Essentially, it's a data dump.
In an April 2 letter, the Centers for Medicare & Medicaid Services informed the American Medical Association that sometime after April 9, it would begin publishing information on about $77 billion the government pays to more than 880,000 health-care providers to treat elderly patients. That means consumers, news organizations, insurance companies and others will have access to data on how much doctors charge for procedures, how often they perform them and how their practices stack up against those of their peers.
The change ends a three-decade-long blackout on such information, a ban that ended with a court decision last May.
Medicare is so huge that its rounding margins are larger than many federal programs. Medicare, the third-largest federal budget item after defense and Social Security, serves 50 million Americans at an annual cost of about half a trillion dollars. One of 13 federal programs designated "high-error" by the Office of Management and Budget, it also has proved an irresistible draw for crooks. According to federal data, Medicare's fee-for-service component alone doled out $29.6 billion in improper payments in 2013. Not all of that was due to fraud, but plenty of it was.
Few get-rich schemes can compete with the allure of Medicare fraud. The savviest and luckiest appear to have secured ill-gotten gains in the hundreds of millions. The government has countered with the new interagency Medicare Strike Force and anti-fraud upgrades modeled on technologies used by the credit card industry. In 2011, CMS began screening and revalidating 1.5 million providers and suppliers, leading to the revocation of billing rights for more than 200,000 of them. So far, so good: The U.S. recovered a record $4.3 billion from fraudsters in 2013.
There is still a long way to go. With 4.5 million claims processed every business day, the feds can only do so much to police the Medicare mills.
That's where public data come in. Anyone will have access to physician billing information: journalists and investigators on the lookout for criminals, health researchers and insurance companies seeking to understand trends, and individual Medicare patients wondering how a mysterious charge landed on a bill.
No patient identities will be disclosed -- only doctors' names and addresses, summaries of services provided, and the amount providers were paid for services. Many patients already call a Medicare hotline to report suspicious charges or activities, and the government has drafted a Senior Medicare Patrol to educate their peers. Putting data on the Internet will give these sleuths more clues to work with.
Will this yield occasional misunderstandings or instances of overzealousness? Undoubtedly. For example, doctors with especially sickly (usually poor) patients worry that their practices will appear less effective if measured against practices with more affluent patients. But it will also put shady doctors and substandard providers on notice that the risks of exposure have spiked.
Providers who overcharge, or who bill Medicare for more procedures than they can reasonably accomplish, will face the prying eyes not only of patients, but also of competitors with intimate knowledge of the field. The government projects that the program will lead to higher quality and lower costs in addition to less fraud.
Medicare money is public money, and it must be vigorously safeguarded. For too long, criminals have been able to find both opportunity and anonymity within the system's labyrinth. Transparency, much of it driven by the Affordable Care Act, is now changing the health-care industry in profound ways. It will transform crime fighting, too.