Citi Would Be Doing Slightly Better If Not for the Fed
A bank's cost of equity is 10 percent, some people think, and those people seem to include Citigroup shareholders.
by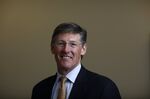 One plan that Citigroup once had was to have a return on tangible common equity of at least 10 percent by 2015. Citigroup ... sort of no longer has that plan?
So says this Wall Street Journal story about how Citi is going around telling investors to brace for a return on tangible common equity of less than 10 percent. Investors are displeased. Though they have not completely given up hope: "The bank still could meet the target if it improved overall profit." Yes that is traditionally one way to improve return on equity, increasing profits.
There is another, even more traditional way, which is to reduce equity, but Citi's plan to do that was thwarted by the Fed's stress tests, which prevented it from returning some $6.1 billion of capital over the next two years. 1 That's $6.1 billion out of ... oh, I don't know how you count, but if you count tangible common equity then it's $6.1 billion out of $167.5 billion. So, I mean, it's a lot of money, and I suppose in a severely adverse scenario you'd rather Citi had the money, but the Fed didn't exactly stop a drastic change to Citi's capitalization. By my super-rough math, failing the stress test should reduce Citi's 2015 return on tangible common equity by something like 37 basis points, meaning that if it was on track to hit 10.1 percent before failing the stress tests, now it should be on track to hit, like, 9.73 percent. 2 Just round up and you're fine, Citi!
Obviously it doesn't quite work that way. For one thing I guess you round to the nearest tenth of a percentage point, which is bad luck. For another thing, the Fed rejected Citi's capital return not on "you need more capital" grounds, but rather on "you have no idea what you're doing" grounds -- sorry, "specific deficiencies included Citigroup's ability to project revenue and losses under a stressful scenario for material parts of the firm's global operations." It's harder to fiddle with the numbers to fix that sort of problem. If Citi is bad at projecting revenues in 2014, there's a real chance it'll be just as bad in 2015, and will fall further behind on capital return. 3
For yet another thing, if the Fed is correct and Citi is in fact bad at projecting revenues, that might cause you to doubt, um, Citi's revenue projections. 4 So not only will it have more capital than it wants, but it might end up with less income than it expects. My Bloomberg View colleague Jonathan Weil pointed out how odd it is that Citi is selectively warning investors about its profitability expectations, and that does seem like the sort of material nonpublic information that you'd want to disclose broadly rather than dole out one by one to favored investors. 5 But remember: It's Citi! Its expectations of its own profits are, like, immaterial as a matter of law. The Fed went and said so.
Still, I am tempted to take this story at face value, and believe that Citi has a 10 percent return-on-equity target, that it was planning to just barely hit that target before the stress tests, and that it now expects to just barely miss the target because of the really pretty small hit to return on equity caused by failing the stress tests. 6 That just sounds sort of psychologically compelling, doesn't it? That 10 percent return number seems to have magic-talisman powers in banking, for reasons that I have never fully understood. Banks are just supposed to return 10 percent on equity, except that Goldman is supposed to return 20.
Citi knew it needed to get to the magic number, picked 2015 as its best guess for the year when it projected it would just barely get there, reassured shareholders that it would, and then ... well, then turned out not to have appropriately stress-tested its capital plan to reflect adverse scenarios. Sort of like the Fed said, but in reverse.
It's ... appropriate? Ironic? Kinda cruel? ... that the Fed caused Citi so much heartache by flunking it on the stress tests. Missing out on a few billion dollars of capital return is not generally that big a deal; several of Citi's competitors undershot their stress-test capital-return requests by more than that amount. But missing out on that magic 10 percent number hurts, for reasons that can't be fully quantified in dollars. Citi really needed that extra 37 basis points of return on equity. If the Fed wanted to make a strong statement about the importance of the stress tests, it picked the right bank to make an example of.
(Matt Levine writes about Wall Street and the financial world for Bloomberg View.)
To contact the author on this story:
Matthew S Levine at mlevine51@bloomberg.net
To contact the editor on this story:
Toby Harshaw at tharshaw@bloomberg.net
Before it's here, it's on the Bloomberg Terminal.
LEARN MORE