A Match.com Made in Baseball Heaven
Are you a single baseball fan who's ready to mingle? There's an app for that.
by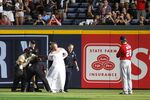 Are you a single baseball fan who's ready to mingle? There's an app for that.
Major League Baseball and Match.com have partnered to bring together baseball fans of all stripes through the world of online dating. Throughout the 2014 seasons, Match users can add their favorite team to their profiles and filter other users based on their team affiliations, so there's no risk of a Yankee fan getting paired up with a Red Sox fan (unless that's your thing). In fact, Match.com President Amarnath Thombre told the Associated Press that users who identify as Yankee fans often lead with the question, "Who hates the Red Sox?"
According to the site, more than a quarter of its users identify as baseball fans, and as someone who thinks a game makes for a swell first date, this sounds like a great idea. MLB isn't shy about its motivations for helping fans find love: As MLB Advance Media's Noah Garden said, "The idea is put like people together with similar interest and passion. There's still always room for more butts in the seats."
In other words, MLB has found a way to potentially monetize a social media platform in a more tangible way than through the powerhouses of Twitter and Facebook. Match.com offers the league an even more targeted demographic of people who are not only looking to meet people online with similar interests, but whose ultimate goal is ostensibly to meet IRL and participate in activities surrounding those interests. That could translate to ticket and concession sales as the MLB singles scene shifts from the bar to the ballpark.
Of course, that's an ideal scenario in an experimental partnership. If things go really well, happy couples might want to bring their relationship back to where it all began. In that case, here's a handy infographic breaking down the cost of proposing at every MLB stadium. You might want to shy away from L.A. fans, as Dodger Stadium charges a league-high $2,500 for proposals. And don't even think about falling for a fan of the Angels, Blue Jays, Mets, Orioles or Royals, who don't allow proposals in their stadiums at all. Something to keep in mind when you're filtering through potential matches.
This column does not necessarily reflect the opinion of Bloomberg View's editorial board or Bloomberg LP, its owners and investors.