Tech Stocks in Retreat
New high-stocks have taken a beating this year, while old tech stocks that are profitable and pay dividends have held up.
by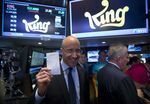 Last month, we noted that high flying tech names were crashing back to earth. After terrific run ups, companies such as Twitter Inc., LinkedIn Corp., SolarCity Corp., Netflix Inc. and Tesla Motors Inc. all have taken a shellacking.