Republicans Create Excellent Roadblocks
Record opposition to judicial nominations.
by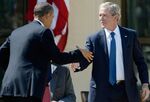 The liberal Alliance for Justice is fighting with the conservative Heritage Foundation about judicial nominations during the presidencies of Barack Obama and George W. Bush . Presumably, the winner will be the side that establishes which out-party was responsible for more obstruction.

AFJ's Kyle Barry is correct in saying the the numbers need to be looked at in their full context (including, as he says, the number of openings and not just the number of confirmed judges). But there's an even more important contextual issue: the Senate. In Bush's first six years in office, Republicans had 50 or 49, then 51, and then 55 senators. In Obama's first six years, Democrats have had 59 or 60, then 53, then 55.
That context reveals two things. First, it shows that Republican obstruction has been a lot worse during the Obama years than Democratic obstruction was during the Bush years. We don't need the numbers to know this. Senate Republicans established a new 60-vote standard for all judicial branch nominees at the beginning of the Obama presidency; they have repeatedly chewed up floor time even when they didn't have the votes to block nominations; and, in an unprecedented step, they blockaded three D.C, Circuit Court seats by filibuster.
But Obama and Senate Democrats also deserve blame for failing to move nominations quickly in 2009 and 2010, when they had the votes to overcome any obstruction.
Something else to think about: Not all opposition is merely obstruction. It's legitimate for the out-party to oppose (lifetime) judicial nominations. However, Republicans haven't just opposed; they have filibustered, abused the blue slip process, and used other foot-dragging techniques on the Senate floor and in the Judiciary Committee.
If Republicans claim a Senate majority next year, they'll have the votes to back up opposition to many of Obama's picks. Even in that circumstance, they'll have the (shared) responsibility to cut deals. It would be totally reasonable for them to defeat some solidly liberal judges, but hugely irresponsible for them to shut down all confirmations (or to attempt to dictate to the president who he should nominate).
The bottom line is that Obama's early failure to raise judicial nominations to a priority deserves criticism. But it's also true that he was dealing with unprecedented obstruction -- a Republican tactic so extreme that Democrats wound up with no choice but to change Senate rules to defeat it.
This column does not necessarily reflect the opinion of Bloomberg View's editorial board or Bloomberg LP, its owners and investors.