Did GM Investors Need Safety Warnings?
GM didn't give investors a clue about the extent of its potential recalls when it sold shares to the public. 
by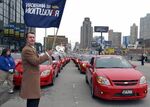 So much disclosure. So little information.
If you bought shares of General Motors Co. the last time it did a public stock offering, you're pretty much back where you started, assuming you still own them. GM priced its follow-on offering in June 2013 at $34.41. The stock dipped below that today, after peaking at almost $42 in December.
Part of the reason for the slide has been the growing uproar over GM's safety failures and recalls of almost 2.6 million vehicles. So out of curiosity, I looked up GM's securities filings from before last year's offering, to see if there was anything that might have warned investors of the looming problems. The answer: I'll let you decide.
The risk-factors section of GM's 2012 annual report mentioned the subject of recalls but didn't delve into details. "From time to time, we recall our products to address performance, compliance or safety-related issues," GM said. "The costs we incur in connection with these recalls typically include the cost of the part being replaced and labor to remove and replace the defective part. In addition product recalls can harm our reputation and cause us to lose customers, particularly if those recalls cause consumers to question the safety or reliability of our products." The same language appeared in the prospectus for GM's November 2010 initial public offering.
There has been nothing ordinary about GM's latest recall, of course. Nor was there anything in its old disclosures hinting at the defective ignition switches in GM cars that have been tied to 13 deaths.
As New York Times reporter Jackie Calmes pointed out in an article over the weekend, the defect dates to 2002 and only came to light because it was discovered by an attorney and engineer involved in a lawsuit against GM by the parents of a woman who was killed in 2010. Several lawmakers have suggested the possibility of a cover-up.
GM was majority-owned by the U.S. government during some of that time, after its federal bailout. The company held its initial public offering at $33 a share in November 2010, reducing the Treasury Department's investment to a minority stake. Last year's offering cut the Treasury's holdings further.
So what did the Treasury Department know and when? And should GM's disclosures about product recalls and defects have been more specific? As far as the Treasury Department is concerned, it doesn't matter, or at least not for purposes of securities litigation.
GM noted in its offering prospectus last year that the doctrine of sovereign immunity "provides that claims may not be brought against the United States or any agency or instrumentality thereof unless specifically permitted by act of Congress." In addition, the prospectus said, the Treasury Department "and its officers, agents, and employees are exempt from liability for any violation or alleged violation of the anti-fraud provisions" of federal securities laws.
We may never know if the Treasury's stake in GM contributed in any way to the failure of the company or its regulators to address GM's safety problems more promptly. Yet it should never come as a surprise to learn that government is hamstrung when it acts simultaneously as both regulator and market participant.
Christopher Cox warned about this in December 2008 during one of his final speeches as chairman of the Securities and Exchange Commission. (I've cited this quote several times before, and it's one of the most prophetic statements to come out of the financial crisis.) "When the government becomes both referee and player, the game changes rather dramatically for every other participant," he said. "Rules that might be rigorously applied to private-sector competitors will not necessarily be applied in the same way to the sovereign who makes the rules."
He sure got that right.
This column does not necessarily reflect the opinion of Bloomberg View's editorial board or Bloomberg LP, its owners and investors.
To contact the author on this story:
Jonathan Weil at jweil16@bloomberg.net
To contact the editor on this story:
James Greiff at jgreiff@bloomberg.net
Before it's here, it's on the Bloomberg Terminal.
LEARN MORE