Editorial Board
Afghan Election's Early Winner: The U.S.
Afghanistan's vote won't make it the Switzerland of central Asia, but it can open a new chapter in relations with the U.S. 
by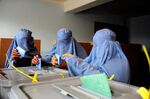 The outcome of Afghanistan's elections remains unclear after this weekend's vote, but there are three things we do know. First, turnout was high. Second, despite dire threats, the Taliban did not disrupt the vote. And, last but not least, President Hamid Karzai's days in office are numbered.