Editorial Board
Don't Try Calling This Jobs Market Normal
The number of long-term unemployed in the U.S. is still about 2.4 million away from normal.
by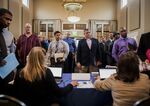 The headline number in today's employment report-- 192,000 nonfarm jobs created in March, bringing the three-month average to 173,000 -- suggests that the U.S. recovery is on track to bring the labor market back to normal, albeit gradually. Try telling that to the millions of people who are still suffering in the purgatory of long-term joblessness.
QuickTake Monthly U.S. Jobs Report
As of March, an estimated 3.74 million job-seekers had been out of work for more than 6 months. That number would be only 1.39 million if the long-term unemployment rate, measured as a share of the population, fell to its average in the 10 years before the 2008 recession. In other words, we're still about 2.35 million away from normal.

The long-term unemployed have an extremely hard time getting back to work. New research suggests that only about one in 10 will have a secure full-time job even a year from now. If they drop out of the labor force completely, they will permanently damage the economy's capacity to grow.
The government's goal should be to limit the damage. That means consolidating federal jobs programs and experimenting with creative ways to boost morale. It also means extending unemployment benefits for those still searching for work, even if some of the money goes to people who have given up.
The U.S. Senate passed a bill this week renewing the long-term unemployment benefits that expired at the end of 2013. If legislators in the House of Representatives fail to take it up, they will demonstrate their willful disregard not only for the livelihoods of millions of Americans, but also for the well-being of the nation as a whole.

To contact the senior editor responsible for Bloomberg View's editorials: David Shipley at davidshipley@bloomberg.net.

To contact the author on this story:
The Editors
To contact the editor on this story:
David Shipley at davidshipley@bloomberg.net
Before it's here, it's on the Bloomberg Terminal.
LEARN MORE