view
Billionaire Brothers Got Good Insider Trading Advice, Says SEC
A service that I sometimes provide for free to my readers is telling them how not to insider trade.
by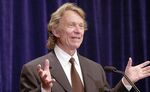 A service that I sometimes provide for free to my readers is telling them how not to insider trade. The first rule of insider trading is "just don't insider trade," but the second rule is, if you are going to insider trade, don't do it by buying short-dated out-of-the-money call options in companies that you know are going to be merger targets. The SEC always notices that.
This second piece of advice is so good, and apparently so unavailable to actual insider traders, that some have suggested that I should get out of the blogging racket and set up shop as a full-time for-profit insider trading consultant. I am not going to do that, though, in part because of my first rule of insider trading, in part because of my aversion to prison, but also in part because there is clearly well-funded competition in the business. Former Lehman Brothers broker Louis J. Schaufele III, for instance, was all over the second rule 15 years ago:

In October 1999, after having agreed to put Sterling Software on the selling block, the Wylys had their Offshore System enter into a bullish offshore transaction in the form of a security-based swap agreement with Lehman Brothers that economically replicated the purchase of two million shares of Sterling Software for approximately $20.36 per share. Based on Sterling Software's closing price of $36.25 on February 14, 2000 -- the date that Sterling Software's agreement to be acquired by Computer Associates was announced -- the Wylys' illegal imputed profits from this transaction totaled approximately $31.7 million.

In late September 1999, Sam Wyly instructed the Wyly Family CFO to determine the cost of purchasing from Lehman Brothers up to 4 million Sterling Software call options at the company's current trading price, with expiration dates of between 12 and 24 months in the future. On September 28, 1999, Schaufele provided the Wyly Family CFO with the requested pricing information, but recommended that the Wylys consider a swap agreement as an alternative because it would be easier to unwind than call options.
That's from the Securities and Exchange Commission's 2010 complaint against billionaire brothers Sam and Charles Wyly and some of their service providers. Since that complaint, pretty much everyone has gotten out of this case in various ways: Schaufele has settled with the SEC, for instance, and Charles Wyly has died, which, as your insider trading adviser, I cannot recommend. Sam Wyly, on the other hand, is still fighting the case, and his trial started yesterday.
It's a weird case. The Wylys owned lots of stock in a series of public companies that they had founded or run, including Michaels Stores, Sterling Software, Sterling Commerce and Scottish Re. And they ended up chucking a lot of that stock into various offshore trusts (referred to by the SEC as the "Offshore System"). According to the SEC, the Wylys did not do a great job of disclosing that they owned all of this stock.
Some of this is weird nitpicking. For instance, the SEC thinks that this prospectus, in which the offshore trusts sold some Sterling Commerce stock, was one of those that "failed ... to provide required disclosures concerning the material relationships between the respective 'Selling Shareholders' and the relevant Issuer, and were therefore materially false and misleading." 1 The prospectus says, "The Selling Stockholder named in the table is an irrevocable trust established by Sam Wyly and of which Sam Wyly and his family are included as beneficiaries. Sam Wyly is a director of the Company." So ... that seems to disclose the relationship? Wyly's lawyer "said the Wylys are 'law-abiding men' who never intended to violate what he called 'confusing' disclosure rules written by the SEC," and, yeah, if saying that you're selling shares through a trust is not enough to disclose that you're selling shares through a trust, then I guess I'm confused too. 2
Other accusations seem a bit more compelling, though; the SEC claims that the Wylys sold millions of shares from their offshore trusts without any disclosure at all. Still, it is perhaps harsh that the SEC is suing the Wylys for $550 million:
The SEC alleges that the Wylys and French systematically and falsely created the impression that the Wylys' entire holdings and trading were limited to the fraction that they held and traded domestically. By depriving existing shareholders and potential investors of information deemed material by the federal securities laws, the Wylys were able to sell — in large-block trades alone — more than 14 million shares of issuer securities over a period of 13 years for undisclosed gains in excess of $550 million.
The SEC's theory seems to be "if you don't properly disclose where you keep your stock, we can take away all of your stock," which I suppose has some legal basis but still seems harsh.
But then there is that swap! That swap is ... not so great. The Wyly brothers were chairman and vice chairman of Sterling Software at the time and controlled its board. 3 They (allegedly!) decided to put the company up for sale. And they figured they'd buy some more stock, to make an extra profit when they sold it. One thinks vaguely of spoofing. 4
If you accept that their decision to sell was bullish material inside information, then you could see why they'd want to lever that information by buying a giant mass of call options, the most levered way to benefit from that information. And you could see why Schaufele, their broker at Lehman, would say no thanks. 5 If you believe the SEC, the Wylys hired armies of lawyers and went to great lengths to hide their securities trades from the public and the SEC. And Schaufele was intimately involved, even hiding the Wylys' activities from his bosses at Lehman. 6 He was way ahead of me as an insider trading adviser, helping the Wylys disguise their trading in offshore accounts and code-named trusts. You don't spoil all that work by buying out-of-the-money call options on a merger target. That's the ... well, that's the second most important rule of insider trading.
(Matt Levine writes about Wall Street and the financial world for Bloomberg View.)
To contact the author on this story:
Matthew S Levine at mlevine51@bloomberg.net
To contact the editor on this story:
Toby Harshaw at tharshaw@bloomberg.net
Before it's here, it's on the Bloomberg Terminal.
LEARN MORE