What Xi Jinping Could Learn From the Pope
Xi Jinping and Pope Francis should really be sharing notes. The tasks facing two men who took office just one day apart in 2013 are surprisingly similar.
by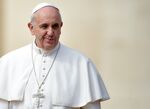 Xi Jinping and Jorge Mario Bergoglio would seem like natural enemies. The Chinese president runs a government that squashes religious freedom, limits procreation and has a dismal human-rights record. Bergoglio -- better known as Pope Francis -- wants access to Xi's many citizens in order to spread the Catholic Church's teachings, challenge the Communist Party's hold on dogma and even reach out to North Korea.