Watching TV Shouldn't Be So Complicated
The programming menu is definitely getting larger. It's just not getting simpler.
by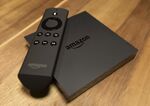 Whatever happened to the promise of seamlessly streaming from "Game of Thrones" to "House of Cards" to "24" to "The Real Housewives of New York City" with a click of a button? The new era of streaming media was supposed to revolutionize TV viewing, eliminating set top boxes from cable and satellite companies. In some ways, it has only made navigating the programming guide more complicated.