Southwest Airlines Hits Labor Turbulence
Southwest Airlines' business model is showing its age.
by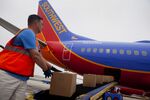 Whenever you write an article about airline labor troubles, you have to mention that Southwest Airlines Co. has excellent labor relations. It's obligatory, like calling your mother on Mother's Day.
Maybe not anymore.
Unbeknownst to me, Southwest has started having labor trouble. The Guardian reports that it is locked in a battle with its union because management wants to shift toward more temporary workers. Unions, citing "record profits," are resisting.
One way to look at this is as the natural evolution of a maturing company that used to have a strong competitive moat around its business. Early on, when a company is growing fast, there is plenty of money to go around. Labor is happy, management is happy, shareholders are happy -- and whenever someone becomes dangerously unhappy, you shoot them a little bit of extra cash. Working for a company in its competitive heyday is very satisfying; just ask anyone at Google Inc. Or find someone who remembers Rochester, New York, in the 1950s, when bonus day at Eastman Kodak Co. was a local holiday second only to Christmas.
When the competitive moat is breached, however, there's less money to go around, and people start squabbling -- and not in the manner of people who are trying to get the best deal in an imperfect world, but in the manner of people whose basic human rights are being violated.
When Southwest launched, its business model was revolutionary: one model of plane, no-frills service, point-to-point flights rather than the "hub and spoke" system that the majors used. But these days, that's not so different from the majors -- when was the last time you ate an airplane meal in economy class? These days, every airplane is basically a flying bus for most of its passengers. That's not surprising, because both people and companies are more price-sensitive than they used to be.
With the industry more competitive than ever, Southwest is no longer making such lovely large profits. It's still consistently profitable, which is impressive. But as this Bloomberg chart shows, the margins have shrunk:

Its profit margin has fallen by almost two-thirds. After six years, this is starting to look more like a permanent condition than a temporary, recession-induced setback. Unsurprisingly, Southwest management is trying to do what management always does when profit margins drop dramatically: cut costs. Also unsurprisingly, labor is doing what labor does when management suggests cutting labor costs: angrily fighting back.
Today's tech giants will someday go through the same painful transition. But labor unions give the complaints a megaphone, and some negotiating force. Though not unlimited negotiating force; witness General Motors Co. Or, for that matter, Trans World Airlines Inc.
Unless Southwest's margins improve, you can expect that management and labor's relationship will continue to be strained. When things used to be so good, it's hard for either shareholders or labor to concede that the magic is gone.
This column does not necessarily reflect the opinion of Bloomberg View's editorial board or Bloomberg LP, its owners and investors.
(Megan McArdle writes about economics, business and public policy for Bloomberg View. Follow her on Twitter at @asymmetricinfo.)
To contact the author on this story:
Megan McArdle at mmcardle3@bloomberg.net
To contact the editor on this story:
James Gibney at jgibney5@bloomberg.net
Before it's here, it's on the Bloomberg Terminal.
LEARN MORE