Latest Crimea Casualty: Miley Cyrus?
The case of Miley Cyrus shows why U.S. sanctions against Russia are silly.
by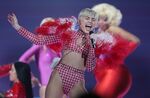 In a world as interconnected as ours, sanctions inevitably have unintended consequences. Witness the chain of events unfolding now in Helsinki, where Justin Timberlake, Nine Inch Nails, Aerosmith and Miley Cyrus have scheduled gigs for May and June. All these concerts may now be canceled or moved because the venue, Hartwall Areena, is owned by three Russians who are on the U.S. sanctions list.