Daniel Murphy and the 'Feminization' of Sports
The New York Met gets grief for an extra 24 hours with his wife and newborn.
by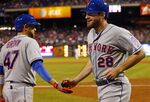 New York Mets second baseman Daniel Murphy skipped the first two games of the season this week to be with his wife when she gave birth to their first child. As her labor pains ended, Murphy's began.
Here is the timeline: Murphy received word late Sunday night that his wife was about to go into labor, and quickly jumped on a plane to Florida. His son, Noah, was born a little after noon Monday -- just before the first pitch of the Mets season. The Mets were off Tuesday, but played again Wednesday without their starting second baseman.
Murphy is entitled to up to three days off under the league's collective-bargaining agreement. This hardly seems like an excessively generous paternity-leave policy. Just because you get paid a lot of money to play baseball in front of a large crowd -- or, in Murphy's case, to play for the Mets -- doesn't mean you should be required to abandon your wife and child after birth, right?
Oh, but some of talk radio's leading lights disagree. Here's WFAN's Mike Francesa: "One day I understand. And in the old days they didn't do that. But one day, go see the baby be born and come back. You're a Major League Baseball player. You can hire a nurse to take care of the baby if your wife needs help."
Then this: "What are you going to do? I mean you are going to sit there and look at your wife in a hospital bed for two days?"
Francesa's comments were echoed by the WFAN morning crew, Boomer Esiason and Craig Carton. Esiason said Murphy should have ordered his wife to schedule a cesarean section before Opening Day. Carton said -- well, he said this: "Assuming the birth went well, the wife is fine, the baby is fine, 24 hours and then get your ass back to your team and you play baseball."
Murphy, perhaps overtaken by the euphoria (or exhaustion) of new fatherhood, handled the criticism with remarkable restraint. He explained that he and his wife had decided it was best for him to stay in Florida for an extra day because she wouldn't be able to travel for another two weeks.
No one tunes into sports radio for enlightened social commentary. So it's tempting to write this whole episode off as the awkward stumble of a few sports guys who wandered off their beat. But there is a larger cultural context -- and subtext -- here. In so many words, Francesa, Esiason and Carton were calling Murphy a wuss. (Francesa went so far as to point out that he went back to work the day after the birth of each of his three kids. Now that's a manly man!) Which isn't really all that different from what we've been hearing from the likes of Rush Limbaugh, Brit Hume and Bill O'Reilly, with their denunciations of the feminization of America. What kind of country are we living in, anyway, when a guy like Governor Chris Christie is called a "bully" just because he's tough, and a big-league ballplayer -- for crying out loud! -- skips out on his team to spend an extra 24 hours with his wife and newborn? Why not just force the broad to have surgery?
The good news is that the campaign to feminize America seems to be working.
This column does not necessarily reflect the opinion of Bloomberg View's editorial board or Bloomberg LP, its owners and investors.