Accounting for Past Sins
Both Credit Suisse and Citigroup had to revise their latest quarterly earnings reports after both found themselves involved in potential wrongdoing.
by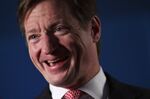 Past sins have a funny way of catching up with banks, especially those where the bosses have trouble keeping track of what goes on inside them.
Back on Feb. 6, Credit Suisse Group AG said fourth-quarter net income was 267 million Swiss francs ($299 million). But that was only a preliminary result contained in an earnings release. Today Credit Suisse said it had "updated" that to a net loss of 476 million francs. Whoops.
The reason mostly had to do with the Justice Department's investigation into the tax-evasion services that Credit Suisse used to provide to its U.S. customers before it got caught and had to stop. The company said it recorded a related charge to earnings of 468 million francs, which it hadn't included in the fourth-quarter numbers it reported originally.
Under the accounting rules, the change means it was probable that Credit Suisse had incurred those expenses as of Dec. 31. And for some reason, it seems the bank's management was unaware of them back in February. But at least the company discovered the need to fix its numbers in time to file its audited financial statements. So it isn't a restatement in the formal sense, only a revision.
Even so, this raises questions about the quality of Credit Suisse's internal controls over financial reporting. A bank of Credit Suisse's size and sophistication shouldn't have any major errors in its earnings release. Investors rely on those preliminary numbers to make decisions. The company is supposed to get its numbers right the first time.
A similar chain of events happened at Citigroup Inc. recently -- the difference being that Citigroup wasn't already in big trouble with the Justice Department. On Feb. 28, Citigroup reduced its previously reported fourth-quarter earnings by $235 million, or almost 10 percent, after discovering a $400 million fraud at its Mexican unit. The New York Times reported today that the U.S. attorney's office in Manhattan and the Federal Bureau of Investigation have opened a criminal investigation "focusing in part on whether holes in the bank's internal controls contributed to the fraud in Mexico." As well they should. (Citigroup also had a big scandal in Mexico during the 1990s involving money laundering and Raul Salinas, the brother of the country's former president.)
Investors at both companies have taken these disclosures in stride, judging by their stock prices. Meanwhile, the top executives at both Credit Suisse and Citigroup have certified that their banks' internal controls were effective in their latest annual reports. But those assurances might not mean much.
Credit Suisse's chief executive officer, Brady Dougan, told a Senate investigative panel in February that the bank's top bosses didn't know employees there were helping customers hide billions of dollars from the Internal Revenue Service -- even though in 2008 there were 1,800 Credit Suisse bankers servicing Swiss accounts for U.S. clients. Likewise, Citigroup CEO Michael Corbat acted like he was blindsided by the Mexican fraud when the company first disclosed it.
If in fact their banks' internal controls were weak, there's little reason to have confidence they would know it. Better that they correct their numbers late than never, though.
This column does not necessarily reflect the opinion of Bloomberg View's editorial board or Bloomberg LP, its owners and investors.