The Trading Floor Isn't Dead Yet
Why it's premature to announce the death of the NYSE floor, which still holds value, even if it's dwindling.    
by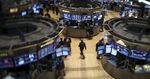 When IntercontinentalExchange Group Inc. bought the New York Stock Exchange last year for $11 billion, it promised to keep the floor operating as a condition of the deal. The pledge made sense -- from a public-relations perspective. But it wouldn't be long before ICE realized its mistake and closed the floor, the conventional wisdom said at the time.