Supreme Court Thinks Politics Needs More Money
By now, the Supreme Court essentially will allow a law limiting contributions to stand only if it deems it necessary to avoid the appearance of quid pro quo corruption. 
by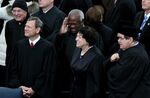 Campaign finance law is dying the death of a thousand cuts. Today the U.S. Supreme Court delivered an especially devastating blow in striking down aggregate contribution limits. And the most remarkable part of it is that, under its own logic, the decision made perfect sense because the court said contributions to an unlimited number of candidates does not give rise to the "appearance of corruption."