Europe's War Against Deflation May Be Lost
Why ECB's Mario Draghi needs to read Ben Bernanke on deflation
by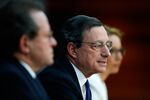 European Central Bank President Mario Draghi needs to dust off his copy of Ben Bernanke's November 2002 speech "Deflation: Making Sure 'It' Doesn't Happen Here." He may be too late.

Here's a chart, courtesy of Bloomberg data maven Joshua Robinson, showing the collective wisdom of economists and analysts on where euro-area inflation is headed between now and the middle of next year. According to the soothsayers, inflation doesn't rise as high as 1 percent until the end of the third quarter of this year. By the end of June 2015, it's still stuck at 1.3 percent -- well below the ECB's target of at or just below 2 percent.

Note, too, that the hard job of predicting the future has proved especially taxing for euro-inflation forecasters. Here's another chart of expectations in October 2013, showing that March prices were supposed to rise by 1.4 percent. The actual figure, released earlier this week, was just 0.5 percent in the year to March, the slowest pace of inflation in more than four years and the sixth consecutive month below target. In Spain, consumer prices dropped 0.2 percent, the first decline since 2009. So, for at least one euro member, deflation is already here.
Even continuous revisions have failed to keep pace with the deteriorating outlook, as the descending staircase on the last chart shows.
So what's a central bank to do? At the press conference following today's policy meeting, Draghi will be pressed on the outlook for consumer prices. The central bank's customary playbook is to accentuate the positive and attribute weakening prices to fleeting, ephemeral factors. Those claims ring more hollow every month.
The slowflation afflicting the euro region is a temporary phenomenon, according to ECB Governing Council member Jens Weidmann. "One should bear in mind that two-thirds of this deceleration of prices can be attributed to energy and unprocessed food prices, which is to say cyclical factors that are likely to be temporary," Weidmann said on March 29. Here's a chart of those unprocessed food prices, tracked against the overall inflation rate.

Yes, fruit and vegetable prices aren't rising as quickly as they did last year. Carrots etc. don't seem to have had much of an impact on the consumer price index line in 2013, though, suggesting a cyclical pick-up in the price of orange umbelliferous plants is unlikely to ride to the rescue.
Draghi's pledge to do "whatever it takes" to save the common currency project was way back in July 2012. A month after that, he opened the door to the kind of un-neutralized bond purchases that would introduce quantitative easing, telling reporters "you shouldn't assume that we will not sterilize or sterilize." The inflation slowdown currently gripping the region is exactly the scenario that would justify action to match that verbal resolve.
The risk of Spanish deflation metastasizing to the rest of the region should be enough to encourage the ECB to start QE. And the time to launch an unsterilized bond-buying program that would stimulate the euro region is not when investors are driving yields higher -- much better to surprise bond markets, when the backdrop is relatively calm. The time, in other words, is now.
This column does not necessarily reflect the opinion of Bloomberg View's editorial board or Bloomberg LP, its owners and investors.