China's Reaction to Taiwan Protests? Eh.
In the two weeks since student protesters seized Taiwan's national legislative chamber to condemn a trade agreement with the mainland, Chinese state media have been strikingly calm. 
by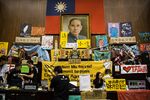 Once, if more than 100,000 people had marched through Taipei to oppose closer links between Taiwan and Mainland China, Beijing's response would have been predictable: an angry, high-level reminder that time was running out for Taiwan to rejoin the motherland peacefully. Ten years ago, Taiwan's then-president Chen Shui-bian -- who had a particular talent for infuriating Chinese leaders with his pro-independence views -- drew a nasty rocket from his mainland counterpart Jiang Zemin. China's president told a People's Liberation Army conference that Taiwan's status had to be resolved by 2020, adding that China's military was perfectly capable of squashing Taiwan's then-resurgent pro-independence movement.