Turkey Blames Election Shenanigans on a Cat
As the days pass since Turkey's disproportionately important local elections on Sunday, a pillar of political life -- the perception that elections are free and fair -- is being destroyed.
by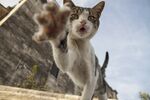 Does Turkey have a "cat lobby" to add to the "interest-rate lobby" and other implausible conspiracies that the government has implicated in attempts to destabilize the country?
That's less frivolous than it sounds (though Turkey's Twitterati have had a lot of fun with it). As the days pass since Turkey's disproportionately important local elections on Sunday, a pillar of the country's political life -- the public perception that Turkish elections are free and fair -- is being destroyed.
The suspicions of many Turks were raised on election day, by a series of statistically improbable electricity blackouts that according to local news reports occurred in 40 cities across more than 20 Turkish provinces during Sunday's vote count, in some cases forcing hand counts by candlelight.
QuickTake Turkey's Continental Divide
Energy Minister Taner Yildiz has blamed a cat, which got into a substation and shorted out the electricity in Ankara. Other outages were caused by storms and snow, he said. Still, the image of a "lobby" of stray feline kamikazes fanning out across a country that stretches from Bulgaria to Iran to short electricity substations has gripped the imagination of Turkey's social media users. Conspiracy theories are rampant.
Since then, the main opposition Republican People's Party, or CHP, has produced bags of discarded opposition ballots that it says were found in one constituency, as well as numerous discrepancies between written ballots and their digital entries elsewhere. A statistician in Sweden has concluded that in the capital Ankara, the correlation between ballot boxes that have large numbers of invalid ballots and counts that favor a Justice and Development Party victory, is hard to explain. Nothing has yet been proved, but opposition parties have filed appeals against the results in a number of cities.
As these were municipal elections, fraud could have changed the results in tight races, including Ankara, where the preliminary count gave a 1 percentage point margin of victory to the ruling Justice and Development Party candidate, Melih Gocek. When thousands of opposition supporters crowded outside the election board to demand a recount Tuesday, riot police moved in to disperse them, using water cannons and stun grenades.
Prime Minister Recep Tayyip Erdogan and his party say the vote was fair, and are looking forward after their win, which has cleared up the question of whether Turkey's strongman remains popular. Yildiz said today that Erdogan will decide with President Abdullah Gul which of them will run for president in August, an arrangement eerily reminiscent of how then Prime Minister Vladimir Putin and President Dmitry Medvedev decided who would run for the post in Russia, in 2012. As in Russia, the man with real power (Erdogan), will get to choose.
Turkey's election officials should agree to recounts, and hold them transparently: Faith in the fairness of elections is hard to recoup once lost. Yet the opposition is also missing the point. Erdogan turned Sunday's local elections into a nationwide referendum on his rule, and the answer was a thumping victory of 46 percent to the ruling party, against 28 percent for the CHP in the preliminary national count. Even the levels of fraud being claimed can't account for a chasm that wide.
Turkey's opposition parties need to look forward, too. They need to figure out how to make a dent in Erdogan's dominance before August, when they will probably have to challenge him in the country's first direct presidential election. Failing a dramatic collapse of the economy in the interim, it is hard to see how they will succeed.
This column does not necessarily reflect the opinion of Bloomberg View's editorial board or Bloomberg LP, its owners and investors.