U.K.'s Mail IPO Becomes a Royal Pain
by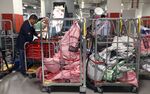 It's hard to underwrite an initial public offering, but no matter how badly you do it's unusual for your client to write and publish a 58-page report cataloging your faults. 1 Normally you get to just slink off quietly, kick your analyst, and make him prepare a slide for the next pitch explaining how none of it was your fault.
But if you lead the U.K. government's privatization of the Royal Mail, and on the first day shares traded up 38 percent -- or half a Twitter -- then you're in for some scrutiny. Even though the underwriters, led by UBS and Goldman Sachs, didn't really do that badly. But here is the U.K. National Audit Office's report on that privatization, which criticizes the government's "cautious approach to a number of issues which, taken together, resulted in the shares being priced at a level which was substantially below that at which they started trading," and concludes with perfect hindsight that "it could have achieved a better value for the taxpayer."
Here is my favorite part of the report:

A lot of what you need to know about investment banking is right there on that chart, in chronological order. There is:
The initial pitch, where you know nothing but just want to be wildly optimistic and flattering to try to win the business: Banks pitched the government on Royal Mail valuations ranging from 280 to 867 pence per share. 2

The first meetings after getting the mandate, where you back away from your initial optimism verrrrrry slowly, so as not to make it too obvious that you were just blindly flattering the client in the initial pitch. UBS and Goldman went with 265 to 365 pence a share.

Increasing conservatism closer to the deal -- Goldman and UBS ranged from 225 to 300 pence at various points in September -- though your ability to back away is constrained by market conditions, and in fact the underwriters drifted up from August to September.

Research analysts who are biased toward optimism for reasons of their own: The lowest end of the most conservative analyst's range was at the top of the underwriters' range. Because, you know, the analysts didn't need to sell it.

The fact that nobody has any idea: The deal was marketed at a range of 260 to 330 pence, ultimately priced at 330, and traded up to 455 the first day.
After that first pitch, the name of the game is caution, for fairly obvious reasons: IPOs are hard because it is hard to know what the "right" price for a non-traded company will be, but there are obvious biases for the underwriters to want a low price. If the stock trades up, you have a lot of institutional investor clients who have made money, and only one issuer client who has left money on the table. And that client has its own reasons for wanting a "successful" deal: The U.K. government still owns 30 percent of Royal Mail, so it benefits from the price increase, and from the general atmosphere of investor delight that it hopes will follow it to its next stock sale.
On the other hand, if the stock trades down, all of your investor clients feel aggrieved, and the general atmosphere of gloom will infect even your issuer client, who will probably not be cheered by the fact that it has succeeded in top-ticking the market. So in this offering, you get prodigies of conservatism, including an almost-year-long marketing process 3 and a refusal to increase the 260-330 pence price range even when the book was 24-times covered at the top of the range:
On 3 October, the Department asked the syndicate banks whether it was possible to increase the price range. The global coordinators advised that, given the orders in the book, the maximum price increase could not be more than 20 pence per share to 350 pence (potentially generating additional proceeds of £120 million), although there was no certainty that the final price would exceed 330 pence per share. The syndicate and the independent corporate finance adviser recommended against a higher price, highlighting a risk that the offer might not ultimately price at the top of a new range with the consequent risk of the loss of momentum that had built up during book-building, and potentially a lower share price as well as noting there had been only one such change of the price range in the last decade.
There is a sad little chart of how much stock everyone wanted versus how much they got:

And oh I mean I don't know it sure kind of looks like there was enough demand there to raise the price by just a bit? Cool postage-stamp edges though.
There's nothing groundbreaking in this report, though it's a good window on how equity underwriting works, at least in one odd circumstance (super-conservative government client selling down multibillion pound stake in public utility). But I sort of like it as a mild, sober corrective to the downward bias that underwriters have in pricing IPOs. A deal that trades down leads to immediate negative feedback for underwriters; a deal that trades up mostly feels like a win. When clients don't feel that way, it's useful for them to speak up.
On the other hand there are some outstanding SEC reports about botched IPOs.


From the report:

There was strong interest from the investment banking community to secure a role in the syndicate. The majority of banks pitching to be part of the banking syndicate had little or no prior information on which to base a valuation and made assumptions based upon information already in the public domain. It is understandable that a very wide range of valuation estimates ranging from 280 to 867 pence per share were presented and the Department correctly placed little reliance on this information.
(Matt Levine writes about Wall Street and the financial world for Bloomberg View.)

To contact the author on this story:
Matthew S Levine at mlevine51@bloomberg.net
To contact the editor on this story:
Toby Harshaw at tharshaw@bloomberg.net
Before it's here, it's on the Bloomberg Terminal.
LEARN MORE