Corruption Crackdown Hits China in the Manolo Blahniks
Makers of luxury goods favored by China's elite have underperformed their local stock-markets.
by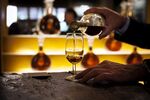 The Financial Times has a fascinating article on infighting among the Chinese elite in the context of the government's new anti-corruption campaign. According to the FT, former leaders including Jiang Zemin and Hu Jintao are opposed to putting too much pressure on corrupt senior officials known as tigers. One consequence has been a plunge in spending on extravagances used to curry favor with top Communist Party members and other influential bureaucrats:
In the past few weeks, producers of high-end spirits like Diageo, Pernod Ricard and Rémy Cointreau have reported double-digit first-half collapses in sales in China and have explicitly blamed Beijing's austerity drive for their woes
Data from stock markets suggest the crackdown on luxury began at the end of last summer. Here's a chart comparing the share prices of four luxury brands against their local benchmarks.

Diageo Plc has probably done relatively better than the French companies in part because it is the least exposed to Chinese politics. It also sells lower-end beverages that can appeal to a broader swathe of customers.

The recent reversal for global luxury brands is all the more striking when compared with most of the past decade.

Limiting the influence of state-owned enterprises and powerful officials would be good for China and much of the world -- just not for anyone who owns shares in the big luxury brands.
(Matthew C. Klein is a writer for Bloomberg View. Follow him on Twitter at @M_C_Klein.)
This column does not necessarily reflect the opinion of Bloomberg View's editorial board or Bloomberg LP, its owners and investors.