The Real Problem With the 'Doc Fix'
The "doc fix" legislation passed last week in the House is flawed. The Senate should insist on a different solution, one that is not only permanent but also includes stronger quality measures.
by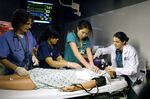 As policy-making disgraces go, last week's House of Representatives vote for a temporary "doc fix" to avoid a cut in Medicare payments to doctors is hard to beat: It's financed in part through accounting gimmicks, and the vote was so rushed that most members of Congress didn't even realize it had been held. A permanent fix is offered as an alternative, and it would indeed be better, but this option, too, could be much stronger.