Speed Trading in a Rigged Market
High-frequency trading is the latest way the stock market is rigged at the expense of the average investor. 
by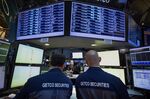 On ``60 Minutes'' last night, author Michael Lewis made a bland assertion: High-frequency traders, he said, working with U.S. stock exchanges and big banks, have rigged the markets in their own favor. The only surprising thing about Lewis's assertion was that anyone could be even remotely surprised by it.