view
Obamacare: What We Know and What We Don't
At the end of the beginning of Obamacare, a lot of unanswered and unsettling questions remain.
by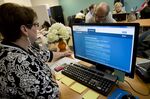 Today is the end of the beginning for the Affordable Care Act.
Open enrollment closes today and, anecdotally, there has been a big surge in traffic, a heroic tribute to the American powers of procrastination. At this rate, the number of plan selections looks like it might hit, or at least get close to, 7 million. That won't mean 7 million people actually enrolled in health insurance, but it will certainly be a marketing coup for President Barack Obama's administration.
Nonetheless, as I wrote last week, there's still an immense amount we don't know. This morning's Los Angeles Times brings optimistic-sounding news based on a Rand Corp. enrollment survey. As the article puts it:
Precise figures on national health coverage will not be available for months. But available data indicate:

• At least 6 million people have signed up for health coverage on the new marketplaces, about one-third of whom were previously uninsured.

• A February survey by consulting firm McKinsey & Co. found 27% of new enrollees were previously uninsured, but newer survey data from the nonprofit Rand Corp. and reports from marketplace officials in several states suggest that share increased in March.

• At least 4.5 million previously uninsured adults have signed up for state Medicaid programs, according to Rand's unpublished survey data, which were shared with The Times. That tracks with estimates from Avalere Health, a consulting firm that is closely following the law's implementation.

• An additional 3 million young adults have gained coverage in recent years through a provision of the law that enables dependent children to remain on their parents' health plans until they turn 26, according to national health insurance surveys from the federal Centers for Disease Control and Prevention.

• About 9 million people have bought health plans directly from insurers, instead of using the marketplaces, Rand found. The vast majority of these people were previously insured.

• Fewer than a million people who had health plans in 2013 are now uninsured because their plans were canceled for not meeting new standards set by the law, the Rand survey indicates.

But there are problems with all of that data.
1. The biggest is that the latest surveys available don't cover the recent surge, which might be (probably is?) different from earlier signups. I'd expect it to contain more "young invincibles," more long-term uninsured and healthier people on average than earlier waves. I'd also expect it to contain more people who will select a plan and then not pay their premiums consistently. All that data, however, is yet to come.
2. Both Rand and McKinsey are doing surveys of relatively small groups. It's useful data to have, because it's the only data we have. But it could easily depart from reality, either by overstating the percentage of uninsured who have bought exchange policies or by understating it.
3. The Rand data isn't even published, so it's hard to be confident about what it says.
4. When I look at the Centers for Disease Control and Prevention report cited in the article, I'm not sure I see 3 million young people who have gained insurance because of the rules allowing them to stay on their parents' coverage. The accompanying chart shows the CDC data for 19-25-year-olds, who make up 85 percent of the affected age group (chart figures in millions).
It seems likely that the law produced some reduction in the number of uninsured young adults. But no matter how you count the uninsured you can't come up with a number as high as 3 million, unless you assume that the gain among 26-year-olds was truly enormous -- 50 percent of the gain among 19-25-year-olds. That seems ... unlikely. Besides, to get that high you'd have to start counting in 2010, but the number of uninsured among all age groups peaked in 2010, not just 19- to 25-year-olds, presumably because of the recession. So if you count from 2010, you're capturing some people who got insurance not because of the Affordable Care Act but because the economy started to recover from the financial crisis.
5. Nine million people buying insurance in the private market over six months is not an exciting number; according to the Kaiser Family Foundation, almost 16 million people bought plans in the private market before the exchanges opened, so basically what this tells us is that over the course of half a year, slightly more than half of those with insurance in the prior year bought plans directly from insurers. Given that some people had their plans canceled because of the new law, this could be normal churn with no net addition of new coverage. Or it might not be. (This depends on how the study treats grandfathered plans, and how many grandfathered plans there were. Since I can't read the study, and we don't have actual data on the number of grandfathered plans, it's hard to say.) We don't know.
6. Philip Klein of the Washington Examiner points out that even if we accept these numbers, it's actually below what the Congressional Budget Office was projecting; unless the number of Medicaid enrollees also surges this month, and almost all of the new enrollees pay their premiums, it's hard to see how you get to 13 million fewer uninsured in 2014, which was what the CBO was projecting as recently as February. At Forbes, Avik Roy adds: "The Congressional Budget Office, in its original estimates, predicted that the vast majority of the people eligible for subsidies on the exchanges would be previously uninsured individuals. Instead, the vast majority are previously insured people, many of whom are getting a better deal on the exchanges because they either qualify for subsidies, or because they're older individuals who benefit from the law's steep rate hikes on the young." Unless McKinsey and Rand are wildly off, that is.
All of which brings us back to what I said last week: we don't yet know whether enrollment is doing better or worse than projected. Here's a sampling of what we still don't know:
· How many people have bought and paid for policies

· How many people have signed up for Medicaid who weren't eligible before 2010

· How many people who are buying insurance didn't have insurance before

· How the new policies compare to the old policies

· How much subsidies are costing
Some of the things we want to know are just impossible to find out yet -- the administration has no way to reliably calculate how many people will keep paying their premiums. But some of this data is stuff that the administration could get pretty quickly -- if it wanted to. Here's industry expert Bob Laszewski:
Every insurance company knows exactly how many people it has enrolled and who paid their premium at the end of every billing period. How else would they be able to process the claims for these people?

How many people were enrolled and paid for?

All HHS Secretary Sebelius has to do is write each of the 400 insurance companies selling in the exchanges and ask them for the total number of people enrolled and paid for on the insurance exchanges as of a certain date. She could email each of them on April 1 and ask for their hard enrollment numbers, for example, as of the end of the month of March. Either the feds or the state exchanges communicate with the carriers daily. The carriers would be able to respond in a matter of hours with the data.

Then, get a pad of paper, a pencil, and a dime store calculator and add up the numbers. By April 5th, we would know the precise answer.

Then there is the second question: Just how much have we reduced the ranks of the uninsured since Obamacare went into effect? It's just as easy to answer this question.

We only need ask the carriers for two numbers:


The number of people they insured (and were paid for) in both the individual and small group markets as of December 31, 2013 -- the day before Obamacare started covering people.


The number of people that were insured (and paid for) in both the individual and small group markets on a specific date -- March 31, 2014, for example.



I will suggest that asking for both the small group and individual market numbers is important as people have a tendency to move between the markets, particularly as employers drop coverage and their people go, or don't go, into the exchanges.

Then subtract one total from the other. We would have an excellent idea of just how many more people, net of any gains and losses, secured private insurance since Obamacare's launch.
If the administration wants to, they can give us much of this information by the middle of next month. That leaves us with one big, open question: Does the administration really want that data?
(Megan McArdle writes about economics, business and public policy for Bloomberg View. Follow her on Twitter at @asymmetricinfo.)
To contact the author on this story:
Megan McArdle at mmcardle3@bloomberg.net
To contact the editor on this story:
Timothy Lavin at tlavin1@bloomberg.net
Before it's here, it's on the Bloomberg Terminal.
LEARN MORE