view
Jeb Bush Rising
Son and brother of presidents may be showing signs of interest.
by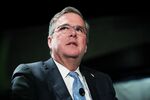 The Jeb Bush 2016 bandwagon appears to be gathering speed, with a nice Washington Post article this weekend detailing both the enthusiasm for another Bush among those who are active in the Republican Party and Jeb's moves toward a candidacy.
Let's boil this down.
What Bush has been up to, including giving relatively high-profile policy speeches and meeting with important people within the party, is exactly what he would have to do to remain viable. We can probably say he's running for 2016, even if he winds up not running in 2016, and keeping in mind that he isn't as far along as several of the other candidates … but then again, he probably doesn't need to be.

He's clearly a plausible nominee. He has some policy differences with many in the party, and he's been out of office longer than is usual for a nominee, but I don't think there's any question that he could win the nomination.

The beliefs of party actors matter. Don't assume, however, that the most important people within the party are those who are closest to Washington-based reporters. I'm not knocking the first-rate reporting by Philip Rucker and Robert Costa, just offering a general note of caution.

The best evidence is that the qualities of candidates don't matter very much in presidential general elections. Still, it can matter to the nomination if party actors believe that one candidate is more electable. Keep that in mind the next time I say we should "ignore those polls" of possible November 2016 match-ups: Not everyone follows my advice!

It's also possible, however, that some party actors support Bush not because they think he's a winner, but because they believe they can trust him if he is elected.

And it's very possible that some people who see Bush as the safest option now, especially in a potentially large and unstable field of candidates, may move toward another consensus candidate well before Iowa. Moreover, it's almost certain that at some point most mainstream conservative Republicans will converge on the same candidate. If not before Iowa, then within a few weeks after the voters get involved.
To contact the writer of this article: Jonathan Bernstein at Jbernstein62@bloomberg.net.
To contact the editor responsible for this article: Max Berley at mberley@bloomberg.net.
(Jonathan Bernstein covers U.S. politics for Bloomberg View. He is co-editor of "The Making of the Presidential Candidates 2012." Follow him onTwitter at @JBPlainblog.)
To contact the author on this story:
Jonathan Bernstein at jbernstein62@bloomberg.net
To contact the editor on this story:
Max Berley at mberley@bloomberg.net
Before it's here, it's on the Bloomberg Terminal.
LEARN MORE