Go Ahead, Blame the Accountants
by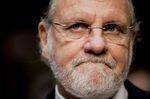 Just when it seemed like MF Global Holdings Ltd. had finally expired, the bankrupt broker rose from obscurity late last week to sue PricewaterhouseCoopers LLP, which was the company's outside auditor when it collapsed in 2011. It isn't often that I rush to the defense of a major accounting firm. But after reading the complaint, I must say: This is one of the most ridiculous lawsuits I have ever seen.
The complaint accuses Pricewaterhouse of professional malpractice and says the firm's poor advice caused MF Global to commit a litany of accounting violations. The company even blamed Pricewaterhouse for its own collapse. It's a novel theory, considering that MF Global, which is in liquidation, hadn't previously admitted to any violations of generally accepted accounting principles.
The demise of MF Global has been one of the most thoroughly investigated corporate collapses in recent memory, perhaps because the company's former chief executive officer was Jon Corzine, the former governor and U.S. senator from New Jersey. The company has been the subject of two investigative reports by Louis Freeh, who headed the Federal Bureau of Investigation under President Bill Clinton and was MF Global's Chapter 11 bankruptcy trustee. The House Financial Services Committee did its own investigative report. So did the liquidation trustee for MF Global's brokerage unit. None accused MF Global of committing any GAAP violations.
In addition, the Commodity Futures Trading Commission filed a lawsuit last year against MF Global and Corzine. The regulator accused them of all sorts of violations, including misusing customer funds, but not any accounting improprieties.
Maybe MF Global knows something the rest of don't. Or at least that's what I wondered when I saw the latest suit. One of the subheadlines in the complaint that caught my attention said this: "PwC's Negligence Caused MF Global Holdings To Restate Its June 30, 2011 Quarterly Report." The problem with that statement is it isn't accurate. MF Global didn't restate its financial report for that quarter.
MF Global did file an amended quarterly report for that period in September 2011. However, none of the numbers in the company's financial statements changed. An explanatory note said the purpose of the amended filing was to provide its financial statements in the electronic format known as XBRL. The amended filing also included an update that said the company had increased its net capital after the second quarter ended, in response to inquiries from its regulator. But none of those items constituted a restatement.
Another part of the complaint that stood out was this contention: "But for PwC's erroneous accounting advice, MF Global Holdings could not have -- and would not have -- invested heavily in European sovereign debt to generate immediate revenues and would not have suffered the massive damages that befell the company in 2011."
That line is a doozy. You see, it wasn't MF Global's fault that it bought all of that European debt or went bankrupt. Blame the accountants! As if Corzine, who once was co-chairman of Goldman Sachs, was the sort of Wall Street executive who made investing decisions based on advice from accountants.
Pricewaterhouse was the auditor. It didn't tell MF Global how to invest. Nor did it prepare MF Global's financial statements or choose the company's accounting policies. MF Global's management did those things.
But that doesn't make for a very good lawsuit, does it?
This column does not necessarily reflect the opinion of Bloomberg View's editorial board or Bloomberg LP, its owners and investors.