Easier Loans: Haven't We Seen This Movie Before?
It's getting a lot easier to get a loan. Does that mean it's time to panic?
by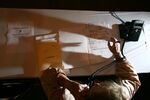 Here are words that would warm the cockles of any financial reporter's heart: "It's easier to get a loan these days for a new home or new car than it's been in five years."