April Fools' for Washington Voters
Washington's mayoral primary reflects a problem that runs deeper than corruption.
by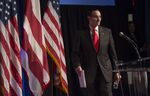 This April Fools' Day coincides with primary day in Washington, where Democrats will decide whether to drop their scandal-tarred mayor, Vincent Gray. But the shadow of corruption that hangs over the race is obscuring a deeper problem with Washington's politics: election laws that favor parties over voters and incumbents over challengers.
Gray's approval rating has declined, and only 26 percent of voters consider him honest and trustworthy. (Scandals involving allegations of secret campaign money from a corrupt businessman will do that.) Recognizing Gray's vulnerability, a pack of Democrats has lined up against him. To win, he needs the big field to fracture the opposition vote, but it appears support is consolidating around Councilmember Muriel Bowser, the only woman in the race.
The latest Washington Post poll shows Gray and Bowser in a statistical dead heat, with neither winning more than 30 percent of the vote. There is no runoff in the primary, so Gray could eke out a victory even though most voters prefer someone else -- and even though polling indicates that Bowser would beat him in a direct matchup.
It's hard to knock off an incumbent in a party primary when so many people want to do it and none get a clean shot. Compounding the difficulty, the early spring primary will probably mean low voter turnout, which generally favors incumbents.
The good news for voters is that if Gray does win, he will have to face a serious test in the general election. In heavily Democratic Washington, where the local Republican Party is almost nonexistent, there was no guarantee of that.
In 2010, after Gray upset the incumbent mayor, Adrian Fenty, in the Democratic primary, he faced no real challenger in the general election. There was no Republican on the ballot, and the Socialist, Green and independent candidates together collected only 3 percent of the vote.
This year, a Republican-turned-independent, Councilman David Catania, has said he'll run. Polls show Catania running even with Gray, and if Gray is the nominee, the scandal swirling around him could sweep Catania to victory. As a white, gay non-Democrat, he would be a triple-first in modern Washington's City Hall. But is Catania the strongest alternative to Gray?
Probably not, and that's the bad news for voters.
In a head-to-head matchup, voters prefer Bowser to Catania by more than 2-to-1. That means if Gray wins the primary, he gets to face the weaker of his two rivals in the general election.
Head to head, if Bowser can beat Gray among Democrats and beat Catania among all voters, one would think she ought to be mayor. But she may not be, because Washington's election laws are drawn around parties instead of voters, even though there is no Republican in the race and only 6 percent of voters are Republicans.
Most cities do not hold party primaries for municipal offices. Instead, all candidates appear on the same ballot, which is open to all voters. The top two vote-getters, regardless of party, advance to the general election. Bowser may wish Washington had such a law if she loses in a tight race.
If she does, Bowser could still run in the general election as an independent. But that would give Gray exactly what he wants: a fractured opposition once again. On the other hand, if Gray loses the primary, he too could run as an independent, probably fracturing Democratic support for Bowser. Under either scenario, Catania could drop out.
So don't be fooled: Whoever loses tomorrow's primary can still win. Whoever wins can still lose. And whoever thinks elections always reflect the will of the majority ought to look again.
(Francis Barry is a member of Bloomberg View's editorial board. Follow him on Twitter at @fsbarry.)
This column does not necessarily reflect the opinion of Bloomberg View's editorial board or Bloomberg LP, its owners and investors.