Sunday Question for Liberals: Obamacare's Grade
Grading Obamacare's first semester.
by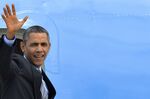 Overall, what grade do you give Barack Obama and his administration for implementation of the Affordable Care Act so far? Why?
This column does not necessarily reflect the opinion of Bloomberg View's editorial board or Bloomberg LP, its owners and investors.
To contact the author on this story:
Jonathan Bernstein at jbernstein62@bloomberg.net
Before it's here, it's on the Bloomberg Terminal.
LEARN MORE