Shock Therapy Would Traumatize Ukraine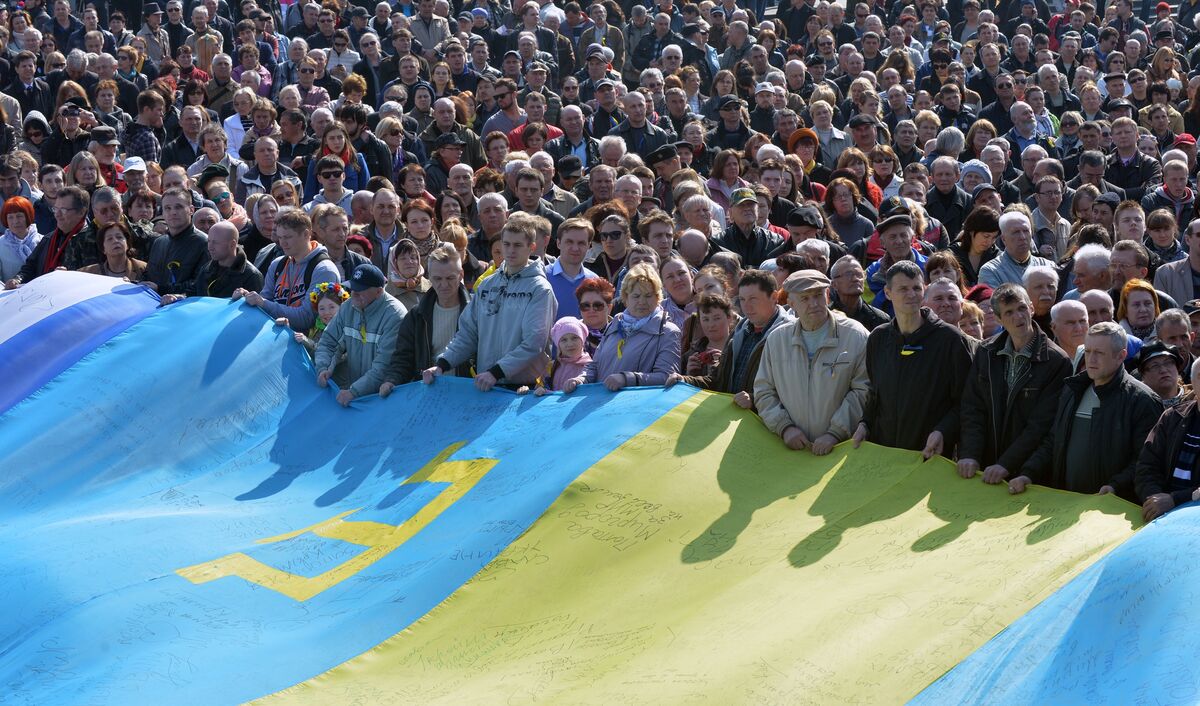 Ukrainians have it tough enough right now without the IMF. Photographer: Sergei Supinsky/AFP/Getty Images
The speed with which the International Monetary Fund has agreed to lend Ukraine as much as $18 billion shows that it grasps the urgency of the situation. Less clear is whether Europe and the U.S. understand that they need to act quickly, too.
In Ukraine, the IMF will in essence be trying an economic solution to a geopolitical problem. So the normal rules of bailout programs, under which governments are forced to spend less and citizens to suffer until the economy revives, cannot apply. At the same time, official corruption has been so endemic in Ukraine, and its governments so feckless, that the IMF's strict discipline is sorely needed.
What to do? And just to deepen the dilemma, remember that there is an invasion-ready force stationed on Ukraine's eastern border. And that Russia, from whence those forces come, has been feeding mainly Russian-speaking eastern Ukraine a narrative about how closer integration with the European Union will close their mines and factories, eliminate their jobs, raise prices, and reduce their pensions.
Yet to secure the IMF deal, interim Prime Minister Arseniy Yatsenyuk had to tell Ukrainians that just this scenario will in part be played out. He warned that inflation could rise as high as 14 percent this year, as the economy contracts by 3 percent.
In such a situation, the IMF's standard "shock therapy" isn't an option. The IMF's loan conditions -- cutting the subsidies provided to heat homes, for example -- are essential, but the impact on ordinary citizens needs to be cushioned far better than the government can afford.
The IMF's two-year, $14 billion to $18 billion loan package is certainly big enough. It will cover Ukraine's known debt payments of about $7.8 billion for the rest of this year. And the IMF is probably right to withhold most of the money until at least May, when Ukraine elects a new president.
In the meantime, Russia is sure to engage in some mischief to encourage Ukrainian frustration. The Russian natural gas monopoly OAO Gazprom has already said it will call in about $1.89 billion of unpaid Ukrainian natural gas bills and raise the price Ukraine pays per thousand cubic meters of gas by about 80 percent. There are also signs that Russia will reimpose a punitive trade blockade.
To show Ukrainians that the West is committed to helping their country's recovery, the EU should make available right away the 1.6 billion euro ($2.2 billion) of short-term economic aid it has offered. This can be used to cushion the blow of future IMF mandated reforms.
The EU will probably also need to add more cash to the mix in the generous 11 billion euro aid package that it has proposed for Ukraine. Much of the EU's offering consists of long-term investments. Similarly, most of the $1.15 billion that the U.S. has pledged consists of loan guarantees.
Eventually, of course, Ukrainians will have to pay the cost of reform. For now, the EU and the U.S. should make sure Ukraine has enough money to keep the country in one piece until it has a stable government.



--Editors: Marc Champion, Michael Newman.