Lies, Damn Lies and Jobs Numbers, Canada Edition
It turns out gauging the health of the job market isn't as easy as it sounds. Cue political shenanigans.
by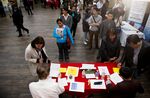 A healthy labor market is perhaps the single most important indicator of a government's economic success. It's also one of the most susceptible to rhetorical shenanigans, usually through the presentation of raw numbers, the bigger the better, often devoid of context. Take Canada, where economic headwinds have made the current government's record a matter of some dispute.