Is Obamacare Now Beyond Repeal?
But we still don't know how many of these people are newly insured, or how many of the previously insured like these policies better than their old policies -- nor how much pressure it is going to end up putting on the budget. 
by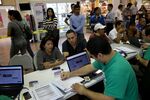 A few days ago, I said that the number of plan selections on the insurance exchanges set up under the Affordable Care Act looked likely to come close to the Congressional Budget Office's projection for total enrollments.