Veterans 'Storm the Hill' to Save Lives
Veterans are in Washington for "Storm the Hill" this week.
by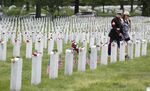 The baseball season opens next week and at many ballparks veterans from the U.S. wars in Iraq and Afghanistan will be introduced to rousing cheers. Also next week, more than 150 U.S. veterans will commit suicide.
The Iraq and Afghanistan Veterans of America are in Washington this week for their annual Storm the Hill event and this year their effort will focus on suicide prevention. They are lobbying members of Congress and White House staffers for more resources, attention and focus on this crisis which, by conservative estimates, takes almost one life every hour, 22 a day.
"You work so hard to bring back our soldiers and you celebrate when they come home, " says Ingrid Tighe, an Army Captain who served with the 1st Cavalry Division in Iraq. "Then you lose someone at home it just eats you up inside."
She was one of five Storm the Hill veterans I sat down with to talk about their efforts and the issue of veteran suicides. Another, Jeremy Newton, who flew F-18 fighter jets in the Navy said, "If we were losing 22 a day on the battlefield there would be an outcry."
The Storm the Hill brigade has a specific agenda including adding more trained psychiatrists positions where they can aid veterans; filling 1,000 mental health-care jobs that are currently vacant on the government's hiring website; increasing the mental health care eligibility for combat veterans to 15 years from 5 years after discharge -- mental health symptoms can sometimes be delayed -- and reviewing wrongful discharges from the armed forces that may have been due to psychiatric problems. Legislation will be introduced later today by Senator John Walsh, a Democrat recently appointed from Montana and a veteran of the Iraq War
They also want President Barack Obama, who has been supportive of veterans' issues, to create a national director of suicide prevention.
Mainly, they want to get public officials and others to draw more attention to these tragedies and help minimize them. They also want to increase awareness for the help available from the Veterans Crisis Line (1-800-273-8255).
Several of the veterans in Washington this week seriously contemplated suicide. Aaron Mankin of Rogers, Ark., was severely injured by an improvised explosive device while serving with the Marine Corps in Iraq. He's had 70 surgical procedures on his face and hands. "I was into the routine of saying 'I'm OK.' And I wasn't," he recalls, "I was just tired and not knowing whether life was worth living."
Finally, he said, with his kids in mind, he reluctantly sought help.
Sara Poquette, who was in the Wisconsin National Guard, had the same feelings while serving in Iraq. "I didn't initially reach out and get help because I was scared, alone," she said. Eventually she did and though it was "a little rocky at first," she says the care has been good.
An overarching problem, these veterans say, is the isolation returning combat veterans feel from the rest of society when they return home. "When you get back to civilian life, you wonder what is my mission and the rest of the community doesn't understand you," said Tighe.
"People don't know what we've been doing for the last 10 years," Newton added.
While there is a long way to go, most say there is some progress. It helps when high-profile officers like retired Gen. Carter Ham acknowledge that they've been affected by post-combat mental-health stress.
Perry Jeffries, of Waco Texas, an Army veteran in town for his 6th Storm the Hill experience says the reaction this year is different from when he started coming. "The first year we were chasing people onto elevators to get an audience," he said. "Now they're having their pictures taken with us."
This column does not necessarily reflect the opinion of Bloomberg View's editorial board or Bloomberg LP, its owners and investors.