Editorial Board
'Trust Me' Isn't Good Enough for Stress Tests
We don't really know why Citigroup failed the Fed's stress tests, so we can't know why other banks passed.
by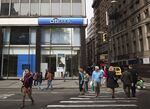 The U.S. Federal Reserve has surprised investors by concluding that one of the country's biggest banks, Citigroup Inc., doesn't have an acceptably good grasp of its own finances. Until the Fed explains its reasoning, one is bound to wonder: What makes it so sure the others do?
This latest round of stress tests mostly gave the banks a good report. The Fed found that 25 out of 30 are adequately well managed and have enough capital (equity from shareholders and other forms of loss-absorbing financing) to survive a severe crisis. As a result, it will let the banks return some $60 billion to shareholders in dividends and share buybacks. That's about 60 percent of their expected net income over the coming year, up from 43 percent in 2013, according to data compiled by Bloomberg.
QuickTake Capital Requirements
The Fed used both quantitative and qualitative measures in its tests. The quantitative tests specified a hypothetical worst-case scenario, so that losses could be measured against capital. Everything was spelled out, allowing investors to judge the tests' rigor for themselves. Bloomberg View, for example, has argued that they weren't stressful enough.
The qualitative requirements were more vague. The Fed asked whether the banks' methods of identifying risks, projecting potential losses and double-checking data were good enough. It found Citigroup deficient, hence unworthy to return capital to its shareholders. But the Fed hasn't said exactly why, or what "good enough" means.
Investors are left guessing where Citigroup went wrong. Was it something to do with the bank's belated discovery of fake invoices in its Banamex subsidiary, which required it to knock $235 million off its 2013 profits? Hard to say. This makes it impossible to say whether the Fed is being too tough on Citi, or maybe not tough enough on all the banks that passed.
The evidence doesn't inspire much confidence in the big banks' ability to understand and control their sprawling operations -- particularly in the midst of a crisis. Consider the $6.2 billion that JPMorgan Chase & Co. managed to lose in a unit that was supposed to be managing the bank's cash, or the more than $100 billion in legal costs that the six largest U.S. banks have piled up since the financial crisis for misdeeds including manipulating markets and selling bad mortgage investments. In January, an international group of bank regulators expressed exasperation at how the largest banks' reporting of counterparty exposures "fails to meet both supervisory expectations and industry self-identified best practices."
This leaves the Fed and the banks with a credibility problem. To work as they're supposed to, the stress tests have to give investors more information. "Trust me" isn't good enough.
--Editors: Mark Whitehouse, Clive Crook.
To contact the author on this story:
The Editors
To contact the editor on this story:
David Shipley at davidshipley@bloomberg.net
Before it's here, it's on the Bloomberg Terminal.
LEARN MORE